Barnet boss Martin Allen bullish over return to club
Last updated on .From the section Football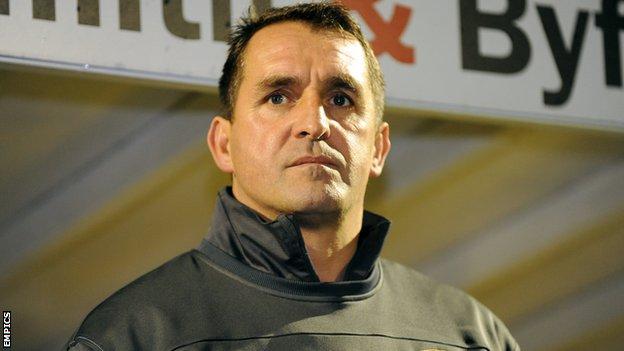 Newly-appointed Barnet manager Martin Allen knows some fans will not welcome him back to the club.
He told BBC London 94.9: "I can understand the supporters were upset last year. It was a very, very difficult decision to leave.
"For the people who've criticised me, Barnet is the love of their life. For managers, it's a job."
He added: "There is a big difference. It's life.
"If better offers come along, generally people take them. The public have a general conception if you're a football manager then you're absolutely minted - I'm not."
Allen had been re-appointed as Barnet manager in March last year for the last eight games of the season, but left to join County after just three games in the dugout.
He has taken over from former Northern Ireland and Fulham boss Lawrie Sanchez and inherits a side who lie three points above the relegation zone with three games left to play.
However, Allen is confident he can help to ensure their status in the Football League.
"From what I can gather, Barnet have been playing quite well recently but haven't been able to turn those performances into wins," said Allen.
"They've not been getting thrashed. They've had narrow defeats.
"At this time of year there's a lot of anxiety and tension. I'm sure I can help them, support them and encourage them.
"We've got two away games and one at home. Hopefully we can create some excitement and get them out of trouble."
For the promotion and relegation news as it happens in League Two this Saturday - follow our new exclusive text commentary service Football League Live. It has fixtures, results, as-it-happens tables and regular reports from across the Football League. Saturday, 1400 BST, bbc.co.uk/sport.