Rangers owner Craig Whyte labels SFA hearing a 'farce'
Last updated on .From the section Football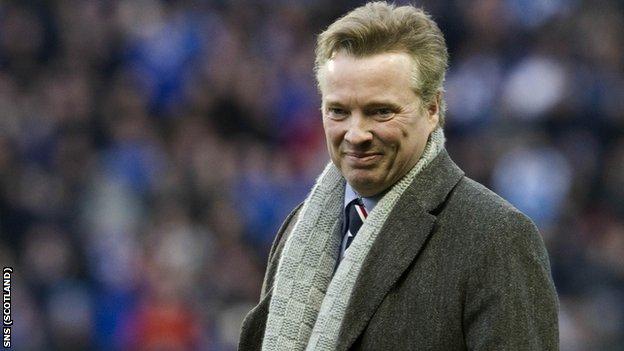 Rangers owner Craig Whyte has told the Scottish Football Association there is "not a chance" he will appear before its judiciary panel on Tuesday.
The rearranged hearing, which is set to end on Friday, follows the SFA charging the administration-hit Ibrox club and Whyte with seven breaches of its rules.
"The SFA is a farcical organisation," said Whyte.
"I will absolutely play no part in it and I will have no representation at Hampden."
The club is charged with five offences, including failing to abide by SFA regulations over the "fit and proper" person's test, and Whyte, ruled unfit by the SFA to be a club official, with two more.
The SFA adjourned the original hearing on 29 March after Whyte's lawyers asked for more time to prepare a case but the owner failed to attend a procedural hearing on 6 April which was set for him to "lodge a substantive response and for representations to be made as to state of preparation".
"I will have more to say about it all in the next couple of days," added Whyte.
The former Rangers chairman will be tried in his absence by the three-man judiciary panel if he has no representation.
Whyte, who holds an 85% stake in the club, told BBC Scotland last week that he had spoken to two of the three parties bidding to take charge of Rangers.
He claims to have had contact with the Blue Knights consortium, fronted by former club director Paul Murray, and a Singapore-based group headed by Bill Ng but has yet to hear from US businessman Bill Miller.
"I am happy to have a conversation with him or anyone who is interested but it is my understanding, through third parties, that they (Miller's consortium) want liquidation and that is no good for the club," said Whyte.
"But anyone who is named the preferred bidder will have to talk to me and thrash out a deal."
Rangers' administrators Duff and Phelps were expected to name the chosen bidder last week, but said that the publication of Scottish Premier League proposals on sanctions for clubs going into administration and liquidation had caused the interested parties to seek more information.