Tiredness creeping into squad - Burnley boss Eddie Howe
Last updated on .From the section Football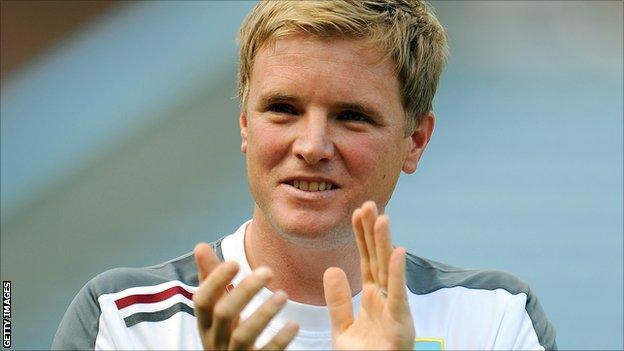 Eddie Howe believes his Burnley side are starting to show signs of fatigue in the final weeks of the season.
"I don't think it's an excuse but I did think we looked tired," he told BBC Radio Lancashire after a on Saturday.
"We do have a very small squad and we have a number of players injured at a big stage of the season.
"We've got another game on Tuesday [at Leicester] so we have to go again and we'll ask the lads for another effort."
The draw leaves Burnley eight points from the Championship play-offs with three matches left to play.
"It was going to be difficult for us anyway," said Howe. "We had to win all of our games so, realistically, we've got to look to next season now and look to improve our performances."
According to defender Michael Duff, the club can have a better campaign next season, but need to cut out the mistakes that have been costing the team points.
"Every team will reflect on games that they should have won or nicked a draw," said the Northern Ireland international, who signed a new one-year contract at Turf Moor on Friday.
"The disappointing thing with us is that it was the same thing that occurred more than two or three times.
"It's important that we learn as a team and we take the positive and negative things that have happened to us this season."
For the promotion and relegation news as it happens in the Championship this Saturday - follow our new exclusive text commentary service Football League Live. It has fixtures, results, as-it-happens tables and regular reports from across the Football League. Saturday, 1400 BST, bbc.co.uk/sport