James Coppinger admits Doncaster Rovers concerns
Last updated on .From the section Football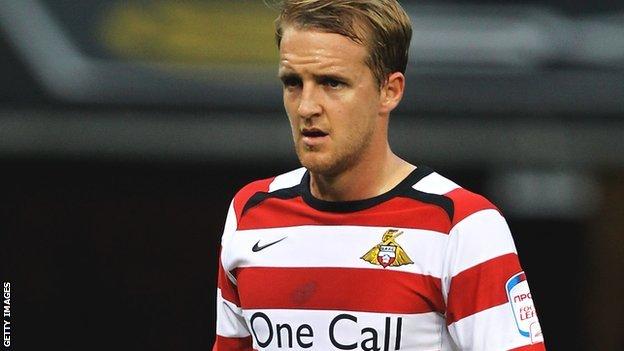 Doncaster Rovers midfielder James Coppinger says the lack of continuity at the club may have contributed towards their relegation.
"Players have come in with different agendas and everyone's got different things in their minds," Coppinger told BBC Radio Sheffield.
"If you look at the best teams they have a constant spine and stick to it."
He added: "We've not had that this season, we've had players coming in on short-term deals and players have been injured.
"In any team you have to have consistency and we haven't had that and it shows because we're bottom of the league."
Coppinger, 31, has been with Rovers since 2004 and helped the club to promotion from League One in 2007/08.
The former Newcastle United man is now worried the club could slide back down the leagues unless preventative measures are taken.
He continued: "We've been here for four seasons and I don't think any of us envisaged us going down.
"The chairman and manager need to get together and work out a plan to stabilise the club so we don't just dwindle through the leagues.
"This club means a lot to me and they've made me one of their own, this season has been a bit of an emotional rollercoaster."
For the promotion and relegation news as it happens in the Championship this Saturday - follow our new exclusive text commentary service Football League Live. It has fixtures, results, as-it-happens tables and regular reports from across the Football League. Saturday, 1400 BST, bbc.co.uk/sport