Final loss makes 'will motivate Celtic', Lennon and Sergio agree
Last updated on .From the section Football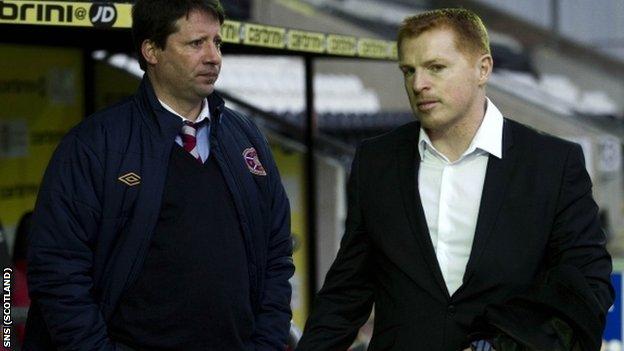 Paulo Sergio and Neil Lennon both agree - Celtic's surprise League Cup final defeat will make Hearts' Scottish Cup task on Sunday all the more difficult.
Lennon's Scottish champions will again start as favourites, just as they did before losing 1-0 to Kilmarnock.
He thinks it acted as "a reminder that there are no guarantees" and Hearts' manager knows that only too well.
"They already lost one cup and I'm sure they're going to be even more alert so it doesn't happen twice," said Sergio.
"They are favourites. We're going to be the first team to play against them as champions.
"They have had a fantastic season. They deserve this title.
"We know they are favourites. They have a fantastic squad, with a fantastic manager.
"We know it's going to be tough for us. But, like I've said before, maybe if we play 10 times against Celtic we can win one or two - I hope Sunday will be one of those."
Lennon also suggests that his side's 6-0 crushing of Kilmarnock to secure the Scottish Premier League crown last weekend will only bolster his side for the Hampden tie.
"You get a taste for it," he said. "The players will have woken up on Sunday morning with a huge smile on their face and I'm sure huge satisfaction from what they have achieved.
"And then you go again. You want more once you've tasted it.
"They won the trophy last year and that gave them a real taste of success.
"We are going for our fourth domestic final in a row and I think that's something to incentivise the players with.
"I hope they use the League Cup defeat as a positive.
"They lost the final, but there were no recriminations from me because I felt we played pretty well on the day."
Celtic midfielder Joe Ledley agreed and thinks his side will take confidence from their 4-0 win at Tynecastle in February.
"Hearts are a good team and pass the ball well and we need to be up for it," he said.
"We did well against them last time and hopefully we can continue our form against them."