West Brom's Peter Odemwingie 'not for sale', says Roy Hodgson
Last updated on .From the section Football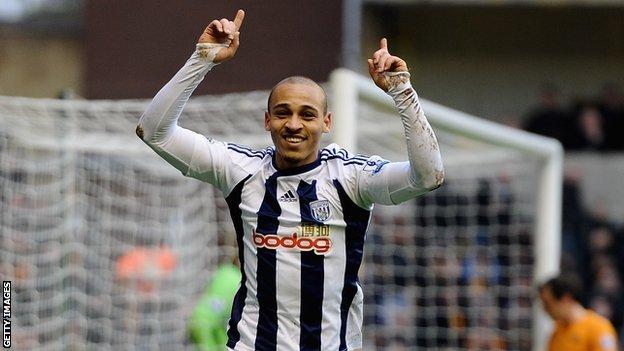 West Bromwich Albion manager Roy Hodgson insists striker Peter Odemwingie is not for sale and is angry about reports linking the club with a related move for Fulham's Andy Johnson.
Striker Johnson worked under Hodgson during the Albion manager's spell in charge at Craven Cottage.
Hodgson said: "We don't welcome offers for Peter Odemwingie. He is a West Brom player and will be next season.
"It is very irritating when people start linking us with other players."
Nigeria international Odemwingie, the Premier League player of the month for February, was Albion's top scorer with 15 goals last season and has netted another 10 so far in the current campaign despite some injury problems.
Hodgson added: "Peter Odemwingie is an important player for us and a player we believe in and a player we want to keep and a player who is not for sale.
"We want to keep him and he is under contract - very simple really."
Hodgson added: "I presume the link with Andy Johnson is based on the fact we worked together at Fulham and he is a player I admire as a footballer.
"He did a great job for me but he is not a player we've actually discussed in terms of next season."