Mario Balotelli urged to seek professional help by union official
Last updated on .From the section Football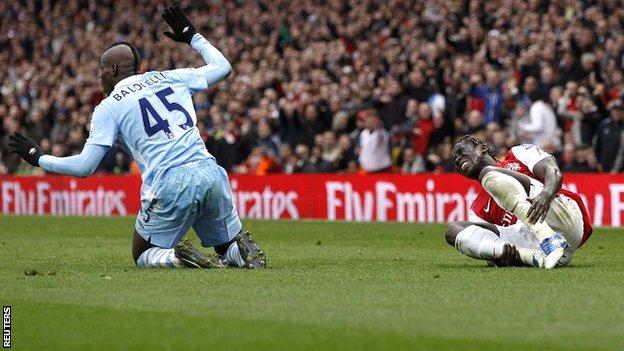 Manchester City's Mario Balotelli needs "professional help" over disciplinary issues, according to a leading official from the world union for footballers.
The striker was sent off in the defeat by Arsenal last weekend, his fourth red card in two seasons.
Theo van Seggelen, general secretary of FIFPro, said: "I think professional help's the only solution."
City boss Roberto Mancini said of the 21-year-old: "If he wants to stay he should change his [mindset]."
Balotelli has apologised for his latest dismissal and stated his commitment to City.
Mancini, who intimated that the forward would "probably" be sold in the summer, added: "We are happy but it doesn't change the situation.
"I don't think he can stay here for 10 years together with me. This is impossible.
"But if tomorrow, or in two or three years, he changes managers or squads it is important he changes his behaviour.
"He has a lot of quality but he can lose it with his attitude."
Balotelli, who joined City from Inter Milan for £24m in August 2010, was banned for four matches earlier this season when the Football Association took retrospective action to punish a stamp on Tottenham's Scott Parker.
The Italy international has also been involved in controversial incidents off the field, including letting off a firework in his house and throwing a dart at a City youth-team player.
"I'm optimistic. I think he is a good guy but he has to change his behaviour for two reasons," said Van Seggelen, talking to BBC Sport's Richard Conway.
"First he is a role model, but also he is playing in a team and he is playing against another team and he has to respect his colleagues.
"I think that we have to realise and conclude that, after all these incidents, my personal opinion is that he needs, really, professional help.
"I don't want to blame Manchester City because it is his own responsibility, but Manchester City [have] their responsibility. Within the pitch he has to behave himself like all the other players.
"You cannot always apologise afterwards and say, 'yes, I'm sorry', but he must realise that he has a problem.
"When he realises that, I'm sure - I'm convinced - that professional people can help him and he can solve his problem."
Van Seggelen's comments come after Marcello Lippi, the World Cup-winning Italy manager, told Balotelli to "wake up".