Arsenal manager Arsene Wenger repeats call for video replays
Last updated on .From the section Football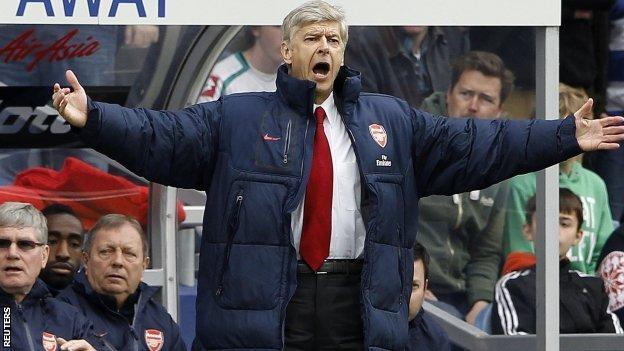 Arsenal manager Arsene Wenger has again called for video technology to be introduced in the Premier League to help referees make correct decisions.
Both Chelsea goals against Wigan were offside, while Manchester United were denied a penalty for Wigan defender Maynor Figueroa's apparent handball.
"It is time for us to help referees and finally opt for video," said Wenger.
"Video will help the referees, not question their authority. It will give them more credit, more authority and less mistakes. [We need] instant video replays on the demand of the referee.
"If a referee says there is an obvious situation he hasn't seen well, let's go and check. He could still be wrong but in less cases."
Wenger denies that the introduction of technology will slow down the game - which had been a concern of Fifa president Sepp Blatter, although the Swiss leader of world football's governing body has since backed the introduction of goal-line technology.
A final decision will be made on adopting goal-line technology in a meeting of the International Football Association Board in Kiev on 2 July.
"It would not stop the game. It would sometimes give a bigger flow to the game," said Wenger.
"Why? Because if I am a linesman and an offside decision is a 50-50 I'm tempted to stop the game.
"If I know I have a video behind me I am tempted to let it go if I'm convinced it is a real 50-50, and you could improve the flow of the game and check after."
Chelsea boss Roberto di Matteo is also an advocate of video replays, particularly in light of the Football Association's decision to use retrospective video evidence to ban Branislav Ivanovic for three games for striking Wigan midfielder Shaun Maloney.
"You look at the images and you think, 'we're using video footage for that, okay, but we don't use goal-line technology'," Di Matteo said.
"Why not? If we're using it for that, why can't we use it for the goals?
"So that's why it has to be reviewed. There has to be a more balanced look at it. And that's what they have to look at in the summer."
Theo van Seggelen, general secretary of world union of footballers organisation FIFPro, believes stopping a game to review a decision by video is not neccessary at present but that the fourth official should be allowed to intervene in certain cases.
"The assistance of the fourth man or someone in the stadium who is looking at a television and is in direct contact with the referee, in my opinion and the opinion of FIFpro, will make the game only better and the decisions of the referee better," he said.