Michael Kightly is relegation-threatened Wolves' one bright light
Last updated on .From the section Football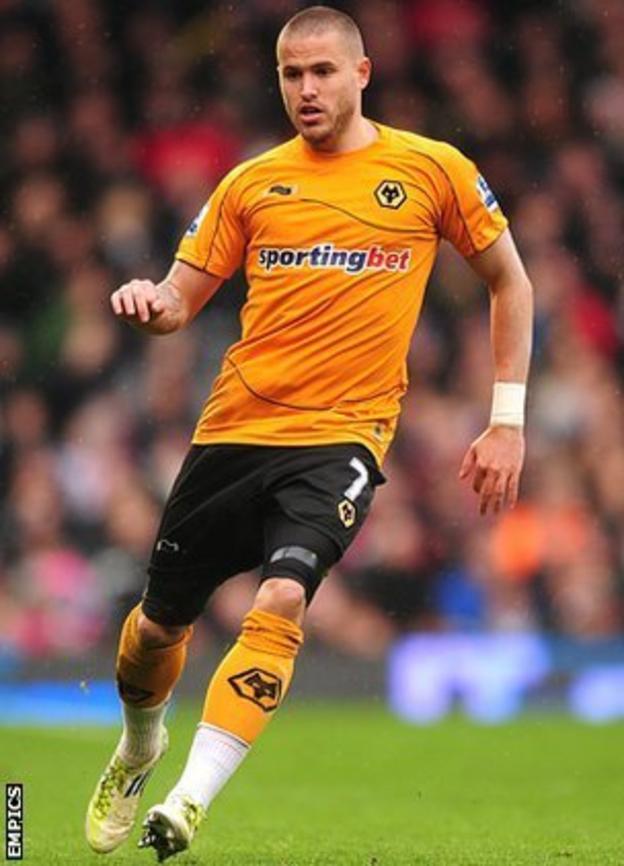 There has not been much to smile about for Wolves fans these past four months as their team slide towards the drop.
But, if Wolves, as expected, depart the Premier League, there is one crumb of comfort to cling to - the form of fit-again winger Michael Kightly.
Having fought back from double knee surgery, the 26-year-old freely admits that he does not want it to end now.
"I worked so hard to get back. And it looks like I'm going to have to wait another year to be here," he told BBC WM.
"Just when I was starting to find my feet and feel like a Premier League player... It's what you dream about as a little boy - to play in the best league in the world.
"Then I got injured just when I'd worked so hard to get to here and that was the toughest time of my life."
Nine points adrift of safety, five wins from their last five games could yet save them.
But, as Kightly admits with a wry smile, the odds of Wolves winning at Sunderland on Saturday, then doing the same at Swansea and Wigan, while also beating title-chasing Manchester City as well as Everton at home, are rather long.
Since Mick McCarthy's men beat Sunderland at Molineux on 4 December, Wolves have won just once in 21 matches, at 10-man QPR in February.
Following McCarthy's exit in the wake of the 5-1 home defeat in the Black Country derby a week later, things have got even worse.
Turned down by Walter Smith and Alan Curbishley, and put off by the fans' reaction to Steve Bruce, the board turned to McCarthy's right-hand man Terry Connor, who has managed just one point out of a possible 21.
"It's difficult to say yes we can win our last five when I know we've only won five games all season," Kightly said. "But I do believe we could pick up points.
"Whether that's going to be enough that's another thing."
If the end does come sooner rather than later for Wolves, at least there is light at the end of the tunnel for Kightly, who privately wondered if he would ever play again after the best part of two years out following surgery to correct tendonitis in both his patellae.
"The mind's a massive thing in football," points out the seven-time capped former England Under-21 international, who even had Manchester United interested in him when McCarthy first lured him to Molineux from non-league Grays Athletic in November 2006.
"When you've been injured for as long as I was, you doubt yourself when you come back.
"You're not quite as sharp and you're not as strong as you were and you wonder whether you're up to the pace."
The key for Kightly was spending the best part of three months out on loan in the Championship with Sean Dyche's Watford, where he proved that he was on his way back.
"I owe Watford a heck of a lot," he said. "That loan spell helped me massively.
"They were the best club I could have gone to. I played under a great manager there in Sean Dyche. In fact, I was surprised at just how good he was. He handles his players brilliantly and it was perfect for me to go there and play my football.
"I probably wouldn't be playing as well as I am now if it wasn't Watford.
"Towards the end of my spell there, I felt as good as I had done and feel like I'm a better player than I was before my injury.
"I came back here and scored against Villa early on and feel like I've done all right. And I feel like there's a lot more to come.
"It's not nice losing every week and to get relegated and have that on your CV, it's there for life.
"There's a lot of good players in that dressing room but it just hasn't been our season.
"But I proved I can play in the Championship and I think I've proved I can now play in the Premier League.
"Now I'm two years older than I was, another couple of years and hopefully I'll be at my peak. And I just want to stay injury free and still hopefully have many good years in front of me."