Can Chelsea manager Roberto di Matteo eclipse Guus Hiddink?
By Alistair Magowan
BBC Sport
Last updated on .From the section Football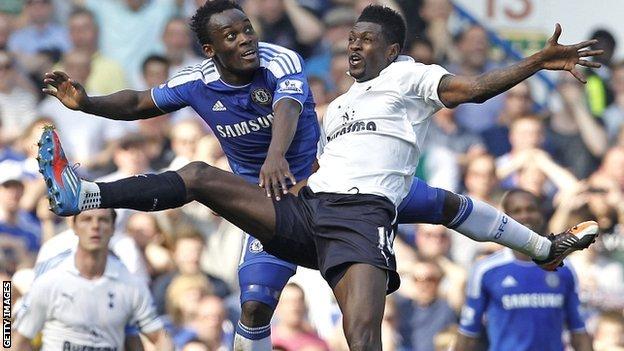 If Chelsea boss Roberto di Matteo needed any inspiration heading into a crucial run of games over the coming 10 days, then he could do worse than cast his mind back to 2009.
Three years ago, Guus Hiddink took over from Luiz Felipe Scolari at Stamford Bridge deep into the season, and found a north London team standing between Chelsea and the FA Cup final, while having the spectre of a Champions League semi-final against Barcelona looming.
The Dutch coach guided the Blues to victory over Arsenal, beating Everton in the final, and guided them to third in the Premier League. But in a tempestuous second leg during the tie against Barcelona, they were beaten by a stoppage-time Andres Iniesta goal.
Di Matteo will have his own thoughts on whether matching that will be good enough, but a trophy and a top four-place would give him and Chelsea a tangible reward during another season of unrest.
The Italian, who took over from former Blues coach Andre Villas-Boas in March, will be first targeting a win over Spurs on Sunday at Wembley in a competition in which he has some pedigree - before facing Barcelona on Wednesday in another Champions League semi-final first leg.
As a player, he scored in both of Chelsea's 1997 and 2000 FA Cup final victories to go with another goal he netted to help win the League Cup in 1998.
But in keeping with modern club policies of money over glory, former Chelsea winger Pat Nevin believes the ex-West Brom and MK Dons boss will be fully briefed that the Champions League next season is the priority.
Chelsea are two points and two places off fourth-placed Tottenham in the Premier League.
Nevin told BBC Sport: "Roberto will decide on who plays but it will be made clear to him by the club that the FA Cup is the third most important thing after their league position and the Champions League semi-final.
"From Di Matteo's and the players' point of view, out loud they will say they want to win everything and he would love to leave that legacy but I think he will be aware the club will need to get the fourth place."
Spurs, too, are desperate to get back into Europe's elite competition next season but former skipper Gary Mabbutt says Harry Redknapp's side will be holding nothing back as they aim to win the FA Cup for the first time since 1991.
"There's a lot of talk of domestic cup competitions being undermined by the Champions League," Mabbutt told BBC Sport. "But I would say that is absolutely not the case from a player's perspective.
"Every player wants to play in every single game, especially the big cup games. I feel sure they will go into the game on Sunday doing their utmost to get through to the final.
"Of course that big game against Barcelona coming up is a massive one for Chelsea."
Huge as that match at Stamford Bridge may be, Chelsea could be left with a scenario where, if they lose to the Spaniards and finish behind fifth-placed Newcastle, the FA Cup may offer Di Matteo's men their only path into Europe next season.
The game marks a coming together of two managers who have fared very differently since their FA Cup campaigns began to gain momentum earlier in spring.
Tottenham boss Redknapp has come under greater scrutiny ever since a dip in his team's form coincided with the 65-year-old being linked with the vacant England manager's job following Fabio Capello's resignation in February.
There is no doubting that Chelsea are the form team, with a 10-point gap between the two teams after Tottenham's 5-0 rout of Newcastle on 11 February being reduced to two points.
In the nine league games since Redknapp was linked with the England post, Tottenham have seen a win percentage drop from 63% to 22%. But Mabbutt says performances have been down to a harsh run of fixtures and rejects it has anything to do with players losing faith with their boss.
"I think it's had no effect whatsoever," the 1991 FA Cup-winner added. "Players don't really care who the manager is to some degree.
"I was at Tottenham for 16 years and had nine different managers. Players deal with all those sort of things very well."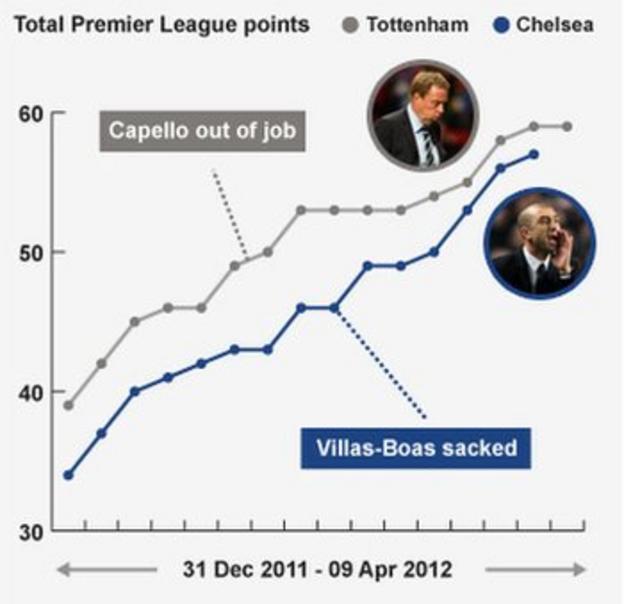 The difference in numbers is not so contrasting for Di Matteo since he took over. Nevin believes the overall progress is because of a revised mission for the Chelsea manager.
The Scot added: "The system has not changed hugely since Andre Villas-Boas left. The personnel hasn't changed that much either, although Roberto has brought in players like Salomon Kalou, and tried the likes of Ramires and Fernando Torres on the right instead of Daniel Sturridge.
"He has managed to get more from everybody.
"Why is that the case? It is difficult to know, but I would venture the suggestion that Villas-Boas had been given job advice to regenerate the club completely.
"If players feel that's the case, they know he will get rid of some of them.
"The current manager has not been given that job description; he has been told to do the best in the short term until the end of the season.
"That's a completely different job, so he is getting more out of the players because they know he is not the axe man."
Di Matteo has a tricky balancing act in picking a team to face Spurs while being mindful of Barcelona. But if he can take a step closer to winning a third FA Cup-winners' medal, he will further enhance his reputation and, unlike Hiddink, he is likely to be available next season.