Euro 2012: England fans put off by high prices
Last updated on .From the section Football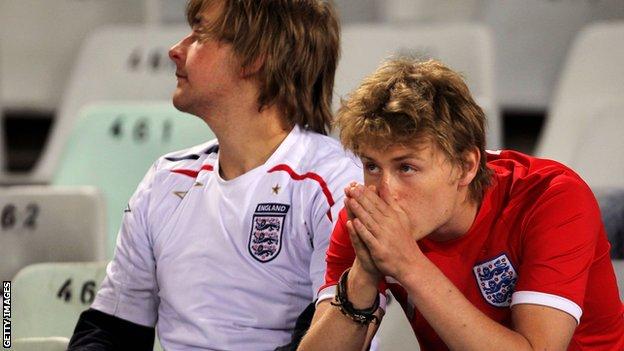 There will be fewer England fans at Euro 2012 than any tournament in living memory because of the escalating cost involved, says Football Supporters Federation spokesman Kevin Miles.
Uefa president Michel Platini is furious about the price of hotels in co-hosts Ukraine, blaming "bandits and crooks" for keeping fans away.
And Miles said: "I'm pleased Platini's highlighted this problem.
"It's been a big factor in why the number of travelling fans is so low."
England supporters have so far taken up around 3,000 tickets for each of their three group games in the Ukraine against France, Sweden and Ukraine, which is less than half their allocation.
The tournament is being co-hosted by Poland and Ukraine. In the latter's host cities of Kiev, Donetsk, Kharkiv and Lviv, some hotels have increased their prices by more than 10 times their normal rates.
"You cannot raise prices from 40 euros (£33) to 100 euros (£83) to 500 (£413) euros from one day to the next," said Platini. "That is just not done."
England have been given 15% of the 52,518-capacity Donbass Arena, around 7,800 tickets, for their matches against France and Ukraine in Donetsk.
The Football Supporters Federation revealed some fans had been quoted $1,000 (£625) a night for a three-star hotel room.
"I'd be surprised if there would be many people willing to pay that. It's definitely a problem and it's been taken to extremes in Ukraine," said Miles.
"The amount of England fans travelling to the tournament is going to be lower than any in living memory."
The FSF revealed the high cost of accommodation was just one of the problems putting off supporters, who also face difficulties travelling both to the tournament and between the venues, as well as the difficult current economic climate.
"The perception is Western fans have loads of money to spend with lots of disposable income. Some of the fans who regularly travel are not bothering," added Miles.
However, the Football Association insist there will be a similar amount of travelling England fans as there were at the 2010 World Cup in South Africa, although the FA receives a smaller proportion of tickets for World Cup matches.
Ukrainian President Viktor Yanukovich has ordered his government to prevent the country's hotels from charging excessive prices for fans travelling to Euro 2012.
Yanukovich wants to ensure hotel rates are at an "economically reasonable" level during the championship.