Manager Brendan Rodgers apologises to Swansea City fans
Last updated on .From the section Football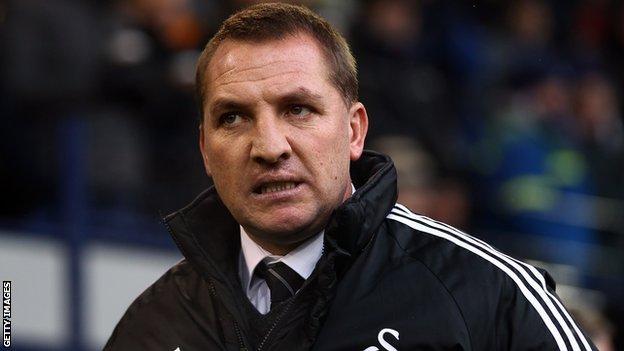 Manager Brendan Rodgers has apologised to Swansea City's fans following their 3-0 defeat by relegation-threatened QPR in the Premier League.
Rodgers says it is the first time during his reign that he felt an apology was necessary.
"I can only apologise to the supporters because I've never had to do that since I've been here," said Rodgers.
Rodgers also admitted he could have substituted "the whole team" and not just Neil Taylor.
Defender Taylor made way in the 46th minute, along with Wayne Routledge, a minute after Joey Barton's opener.
"I felt he [Taylor] needed to be better… I could have probably changed the whole team," said Rodgers.
But the Northern Irishman insists Taylor and the rest of his team-mates have never let their performances dip to such levels before and believes they have what it takes to stave off the threat of being dragged into the relegation zone.
The Swans remained 14th on 39 points, with Rodgers admitting they are not yet safe.
He added: "It was a real poor time to concede [Barton's goal].
"We had control of the first half and any moments that they had, QPR, came from us giving the ball away.
"It was so loose, but we felt comfortable, but we conceded a poor free kick having given the ball away from the throw-in under no pressure.
"And obviously when you're away from home in particular when you go a goal behind then it's always very, very difficult.
"But overall it's a disappointing night. I can have no complaints.
"I thought we were very poor on the evening and QPR deserved to win the game and I can only apologise to the supporters because I've never had to do that since I've been here."
Rodgers said Swansea were "in the games" during recent defeats by Newcastle, Tottenham Hotspur and Everton, but "been beaten by a wee bit of quality".
He added: "I think we beat ourselves [against QPR], really.
"We were nowhere near the level where we've set our season… and we weren't good enough.
"We haven't had a spell at all - it's been terrific for us all season.
"It's been a real mental test of our players right up until now and they've passed that.
"But we need to get over the line. We're still not there on 39 points with five games to go so we need to make sure that we finish off the season."
Swansea face basement battlers Blackburn, Bolton Wanderers and Wolverhampton Wanderers in their next three encounters before finishing off their season against title contenders Manchester United and Liverpool.
"We're fighting as well - we're not out of it by any means at all," said Rodgers. "Certainly our wheels aren't out and landed.
"We need to fight right to the Liverpool game.
"We're not good enough to just coast through games and we need to be full tilt every single game and that's what we've been up until tonight.
"What I've said to the players is that we're not mathematically safe, but we need to show all of the qualities that we've shown up until now.
"If we can do that, then we'll finish well."