Reading takeover close - Sir John Madejski
Last updated on .From the section Football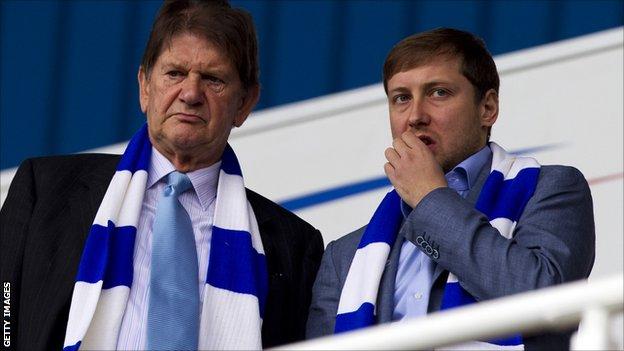 Reading chairman Sir John Madejski says the takeover of the Championship club by Russian tycoon Anton Zingarevich is close to being completed.
Madejski has owned Reading for 22 years but has agreed to sell 51% to Thames Sports Investment led by Zingarevich.
He believes Zingarevich's investment will help propel the club into Europe.
"It is close to being completed, there are a few final hurdles to cross and I have no doubt the deal will go through," Madejski told BBC Sport.
The Football League are still ratifying the takeover by TSI, which is said to be a newly founded private investment company, but the transaction was scheduled to be completed in March.
However Madejski has no doubt the new owners will be good for Reading and that it is the right time to leave the club.
"The good thing about them is they are going to keep the club the same," added Madejski.
"They want to keep the same ethos, they won't go throwing money about like drunken sailors, we've got such a great atmosphere and it will be tragic to see that change."
Madejski added: "His [Zingarevich] father is a billionaire twice over.
"The joy of having someone with deep pockets is that they can spend money but I think they will be shrewd with their buying and we don't want to ruin the ethos of the club.
"They will strengthen but they won't go buying multi-million pound players, they will be buying great prospects.
"Everybody does their tenure and 22 years is quite long enough. Anton is only 30 years old and will be able to take the club further and into Europe and all sorts.
"It's good to leave when we are doing well, better than doing it when we're not, although I will stay on as chairman.
"I am able to hand over to someone who is able to take the club further and that is the dream ticket. Football clubs are pretty precarious things and it is all about having deep pockets."