Graham Taylor says Manchester City should sell Mario Balotelli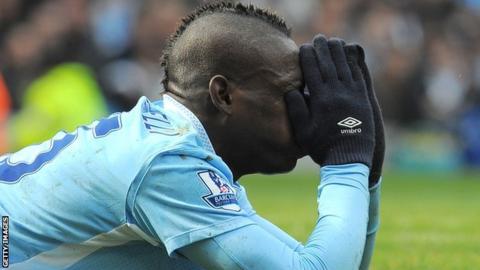 I think it will be to Manchester City's advantage if Mario Balotelli is not at the Etihad Stadium next season.
There is no doubt that his record of 17 goals in 31 club appearances is fantastic.
But, as City's title challenge lies in tatters after falling eight points behind Manchester United with six games remaining, what has it brought Roberto Mancini?
I will tell you. Nothing, absolutely nothing.
There's no doubt that Balotelli's a highly talented player but, let's face it, he does not always deliver and he once again let his side down badly during the 1-0 defeat at Arsenal.
You can't afford to do what he did and expect to get away with it.
I was prepared to give Balotelli the benefit of the doubt for his challenge on Alex Song, but seeing it again, it should have been a red card.
His studs were up, he went right over the top of the ball into his knee, a very dangerous tackle.
Did he learn from that fortunate escape? Of course he didn't. There he was lunging on Bacary Sagna to ensure he did not finish the game.
We all recognise what a talent the boy is.
But in my eyes he only puts the effort in when he wants to.
Mancini is experienced enough to realise that if you cannot rely on your players, they are going to cost you.
Balotelli wouldn't be at Manchester United now. Sir Alex Ferguson would have moved him on.
Championships are not just won on the pitch, the moulding of teams takes place in the dressing room.
You have to trust each other and deliver the goods and that has not been happening with Manchester City and particularly Balotelli.
Sir Alex was the first to say 'you can buy players, but you have to build a team'. That has been proven in the last six weeks by the two Manchester clubs.
So, what now for Mancini?
I've always said that a manager needs three seasons before he can say 'this is my team and my players.'
You're not going to get that any more though at the top clubs.
Mancini has bought in some very good players, but there is not a team ethos.
They've thrown the title away. The management of certain players has been lacking.
The [Carlos] Tevez thing has upset the season, I don't care what other people say. But if you want to be champions, you have got to rise above these things.
They have had too many players in away games who have not delivered.
And as the dust settles on a day which, in my opinion, determined the destination of the title, I can picture a certain Scottish manager taking a sip of red wine with a big smile across his face.