Dartford held as championship hopes dwindle
Last updated on .From the section Football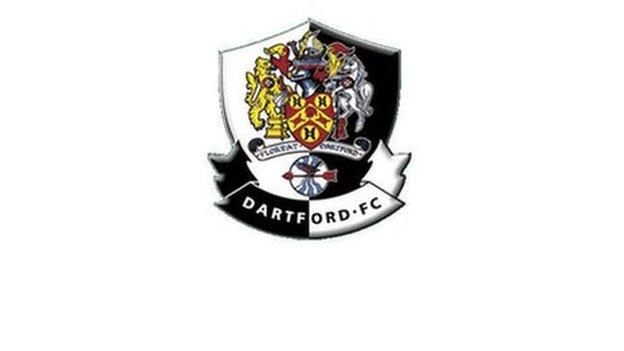 Dartford look certain to have to settle for a Blue Square Bet South play-off place after a 0-0 draw with Chelmsford.
It means with four games to go the Darts are seven points behind leaders Woking with four games left.
Manager Tony Burman told BBC Radio Kent he will not be giving up until Woking's title is assured.
"It was a decent point, nothing's over, we have to keep carrying on, Woking have been excellent but they have had some strange results."
He added: "A few years ago we couldn't even get on the same park as Chelmsford but we're catching these clubs up and their reaction to a 0-0 here makes it a credit to us, but we've got to give Chelmsford credit, they defended over their dead body, and it hasn't come off for us."
Dartford striker Danny Harris said: "I was disappointed we didn't nick one but it was a day where nothing goes for you. You'd like to think it's not over but Woking have got to slip up three times. We'll just try and win every game and see where it goes from there."
Elsewhere Dover Athletic moved to within two points of the Blue Square Bet South play offs with a 3-2 victory at Kent rivals Tonbridge. Shane Huke scored the late winner to end a run of three straight defeats for the Whites.
Manager Nicky Forster said: "It was a terrific game, a bit too open for the managers but it could have been 7-6 and it was important to get the winner."
"At this stage of the season it's important to bounce back, we've come to a team who are in form, we had to be at our best and I thought we were pretty good today."
Welling United secured their play off spot with a 3-0 win at Eastbourne Borough. Loick Pires scored twice. Bromley moved a point nearer conference south safety with a 1-1 draw at Sutton.
Elsewhere Folkestone Invicta opened up a six-point cushion in the Ryman South play-offs with a 4-1 win over Crawley Down and Herne Bay are just five points from the Kent league title after a 3-0 win over Fisher.