Timing change can help South African clubs
By Mohammed Allie
BBC Sport, South Africa
Last updated on .From the section Football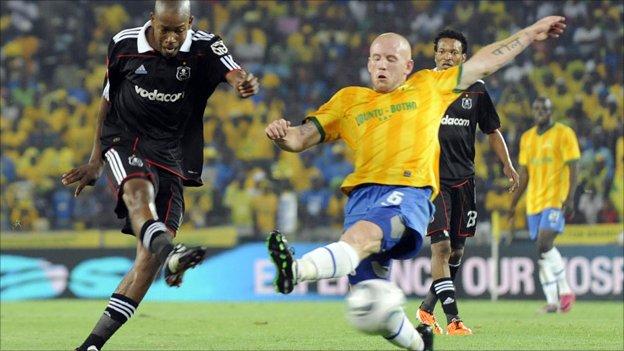 South Africa's football season is set to change to a calendar-year season from 2014 in a bid to make local clubs more competitive in Caf tournaments.
Since 1994, Orlando Pirates and Kaizer Chiefs are the only South African teams to have won continental competitions.
The Premier Soccer League (PSL) says local teams are disadvantaged by the timing of the August-to-May season.
"I hope that we would have reached a formal decision by the start of next season," said PSL CEO Stanley Matthews.
"That will give us enough time to plan for whatever logistics or adaptations need to be made."
Matthews says that South Africans teams are weakened by having to register players for Caf competitions in mid-January, which is in the middle of the season.
"Our clubs are seriously disadvantaged because by the time they get to the group stages of the continental competitions, there are two (transfer) window periods that would have passed where some players have left.
"Players became free agents or had been transferred to other clubs so the continuity of those teams playing in the latter stages of the competition isn't good," he told BBC Sport.
"Sometimes the situation has been so bad that we've previously had clubs who've been down to the bare bones with only 13 players available for a match."
Matthews opined that North African clubs, who have been the most successful in African competition and also have a season that coincides with Europe, do not suffer as much since they do not have as high a turnover of players.
"I'm not saying the moving of the calendar will be the key to success on the continent. There are other reasons like technical, youth and physical development but it is a factor," said Matthews.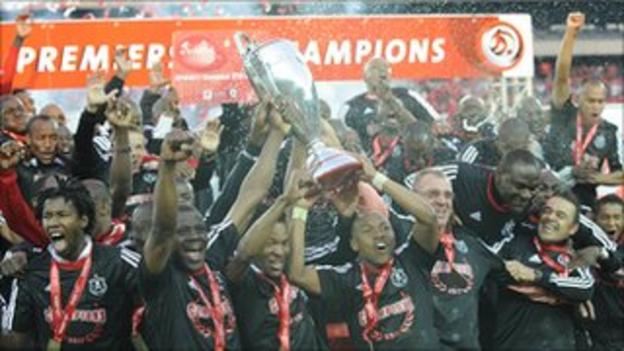 In addition to making local clubs more competitive internationally, particularly pertinent given Orlando Pirates' shock first-round exit in this year's Champions League, Matthews revealed several other reasons behind the change of season.
"The primary reason is that it is disruptive. Every second year, we have an Africa Cup of Nations tournament that disrupts our season because we close for six weeks. That forces a mid-season interruption which is problematic for us.
"If we ran our league according to the Caf schedule, we would probably start towards the end of February and we wouldn't lose out on six fixture weeks of the season as is presently the case.
"Also, there are environmental issues - December and January are the hottest months in South Africa where temperatures range between 36 and 42 degrees.
"We've had a some health-related complaints and concerns from the medical point of view about playing under these conditions."
According to Matthews, all 32 Premier League and First Division clubs agreed in principle to a change in the calendar at a meeting in August.
"The process now is to refine certain elements and to get input from our national association, sponsors and from medical and scientific specialists as to how many games we can accommodate in summer and winter months.
"We also need to do this in consultation with our broadcasters. I'm confident the change will take place because it's an existing resolution."
South Africa originally used a calendar format, replacing it with the current August-to-May season in 1996, since when only Mamelodi Sundowns have reached a Champions League final - losing to Al Ahly of Egypt in 2001.
Orlando Pirates won the African Champions League in 1995, with Kaizer Chiefs lifting the African Cup Winners Cup in 2001.