John Terry: cracked ribs will not stop me playing for Chelsea
Last updated on .From the section Football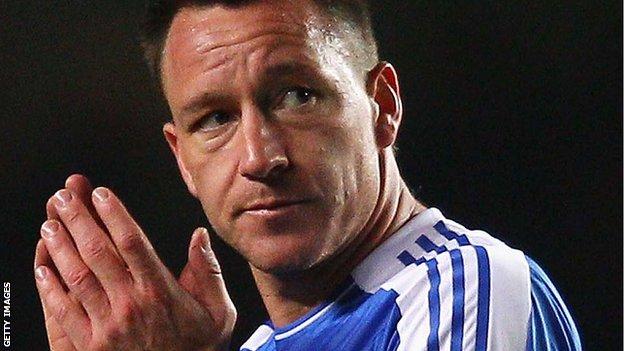 Chelsea captain John Terry admits he is gasping for breath in matches because of two cracked ribs, but intends to play through the pain.
"I couldn't breathe and my chest was closing up," he said. "I was having a difficult time, especially first half.
"You can't treat it, but I can get through games, definitely."
The 31-year-old suffered the injury in the first-leg victory in Lisbon but was able to complete that match and play the full 90 minutes of Saturday's 4-2 league win over Aston Villa.
Chelsea have a run of eight games in 26 days, including Champions League and FA Cup semi-finals against Barcelona and Tottenham. The team struggled during his absence with a knee injury earlier this season.
He added: "I will have a scan and we will see where we go from there. It's just horrible.
"You just have let it heal. I thought it was OK but, later in the second half, it just seemed to be getting worse.
"It was difficult. I have never felt anything like that before."
Terry had to be replaced in the 59th minute by Gary Cahill at Stamford Bridge.
"He got a knock on his rib and that's why we had to take him off," said manager Roberto di Matteo.
"We'll assess him and see how he is. We hope that he is going to be OK."
Chelsea will face Barcelona at home in the first leg of the Champions League semi-final on 18 April, in a repeat of the controversial 2009 semi, when Andres Iniesta's stoppage-time goal at Stamford Bridge put the Catalans through.