Five venues set to host matches at 2013 Nations Cup
Last updated on .From the section Football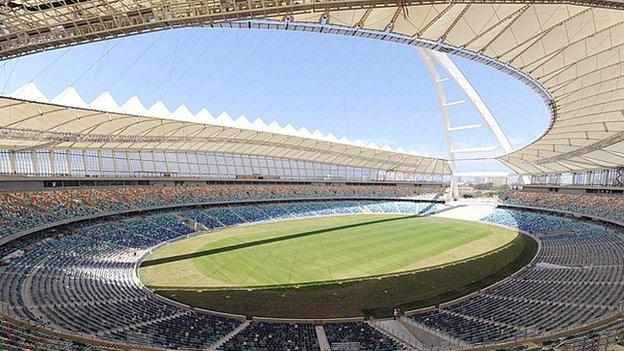 The number of host venues will be expanded from four to five at next year's Africa Cup of Nations finals.
The South African media had widely reported in the run-up to Wednesday's offical launch of the tournament that seven venues would be used.
But the South African Football Association (Safa) said it will only be allowed to name one additional venue.
The venues themselves will be confirmed by 20 April, after the announcement of the host cities was delayed.
The hosts had originally been due to learn their fates on Wednesday at the tournament launch event in Johannesburg.
Safa says it was allowed some flexibility to use five venues, with the country spoilt for choice in terms of first-class stadiums, having hosted the World Cup in 2010.
"There are stadiums in abundance [here], but of course we have to stick to the rules," Safa President Kirsten Nematandani told BBC Sport.
"I must say, even if it's five, for this country, it's far less than what is out there.
"However we've got to abide by the rules of the tournament, and they were flexible to accept us to go for five, which we appreciate.
"We only have half the number of nations compared to what we had in the World Cup. Surely we have to stick to that number."
South Africa had 10 host venues for that tournament, eight of whom submitted bids for the 2013 Nations Cup.
Johannesburg, Cape Town, Polokwane, Rustenburg and Nelspruit joined fellow 2010 venues Bloemfontein, Port Elizabeth and Durban in making bids.
There had been widespread speculation that seven venues would be used, but Safa's announcement confirmed that three bidders are to lose out when the final five are confirmed.
The Confederation of African Football (Caf) acknowledged the problems involved with having as many as seven venues.
"At one time we were told it was seven venues that will be used," Caf Vice President Suketu Patel told BBC Sport.
"Obviously we don't have a problem with that, but it will create organisational problems for Caf because every city will need an organisation committee and Caf will need to find sufficient personnel to be able to host tournaments in cities."
South Africa were granted the 2013 edition of the Nations Cup after original host nation Libya was deemed an unsuitable venue due to the civil unrest.
The 16-team tournament will take place from mid-January to mid-February 2013, with the winners representing Africa at next year's Fifa Confederations Cup in Brazil.