Motherwell pass first fan-ownership target
Last updated on .From the section Football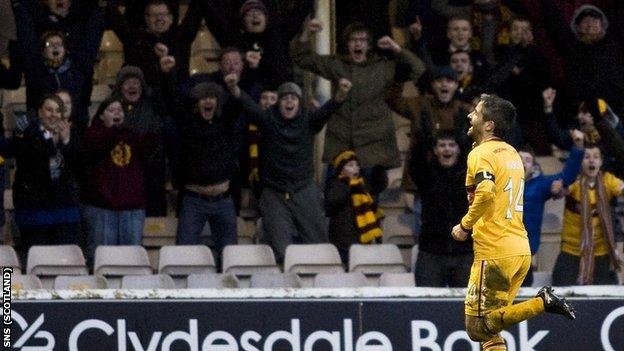 Motherwell have exceeded the initial £250,000 target of their Well Society project aimed at handing ownership of the club over to fans.
Supporters have raised £335,375 to purchase shares donated to the Fir Park club by former chairman John Boyle.
A total of 927 members, 664 of them with voting rights, signed up by the end of March to make the scheme viable.
The society will now be formally constituted, with two members to sit on the club's board of directors.
Chief executive Leeann Dempster said: "The supporters of Motherwell Football Club have stepped up and shown they have the passion, desire and self belief to make Motherwell a successful, sustainable fan-owned club.
"The support for the society idea has overwhelmed us and we are hugely proud of the success to date.
"But it is only stage one. We need to emphasise to everyone that we need to keep recruiting and keep raising funds.
"Crucially, every fan will also agree that we must demonstrate an exemplary ability to run orderly elections to the board and to bring forward candidates of ability and integrity that can be entrusted with the future of the club.
"We have come a long way however, and our optimism as a board remains.
"It is a tough trading environment but our club is improving its position.
"We have complete belief in this idea but will retain a laser focus in ensuring it is implemented in a way that will secure Motherwell's best future."
The Motherwell board have reiterated that they plan to develop a £1.5m "strategic reserve" to replace the personal wealth of Boyle, which helped them through cashflow problems in the past.