The host cities for the 2013 Afcon
Last updated on .From the section Football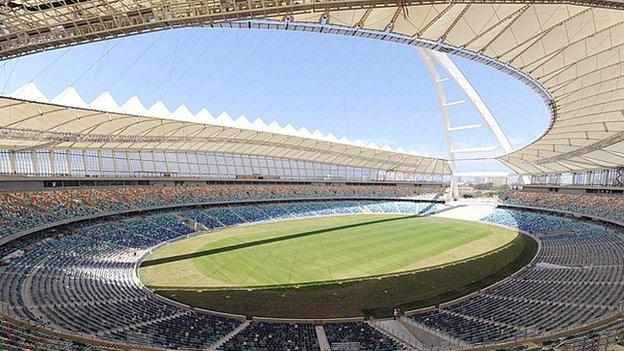 The South African Football Association (Safa) says it expects the announcement of the host cities for the 2013 Africa Cup of Nations to be made on 20 April.
The shorlisted cities will now be sent to the government for final approval.
The news of the delay comes following a meeting of Safa's National Executive Committee over the weekend.
At the same meeting Safa also nominated 13 of its members to represent it on the Local Organising Committee for the 2013 tournament.
The association's nominees including president Kirsten Nematandani and 2010 World Cup CEO Danny Jordaan, who will be joined by government ministers and 'high profile opinion makers from civil society.'
A delegation from the Confederation of African Football (Caf) is currently in South Africa to check on progress in organising the event.
South Africa were granted the 2013 edition of the Nations Cup after original host nation Libya was deemed an unsuitable venue due to the civil unrest.
Johannesburg, Cape Town, Polokwane, Rustenburg and Nelspruit joined fellow World Cup venues Bloemfontein, Port Elizabeth and Durban in making bids.
Organisers have yet to confirm how many cities will eventually stage matches, but the figure of seven has been widely reported in the South African media.
South Africa is spoilt for choice in terms of first-class stadiums, having hosted the Fifa World Cup in 2010.
In a break from the norm, South Africa is reportedly set to choose seven stadiums - four of which will host the opening two rounds of group matches.
A further three will be required for the last round of group matches, followed by the knockout stages.
The 16-team tournament will take place from mid-January to mid-February 2013, with the winners representing Africa at next year's Fifa Confederations Cup in Brazil.