Stoke boss Tony Pulis warns against distractions
Last updated on .From the section Football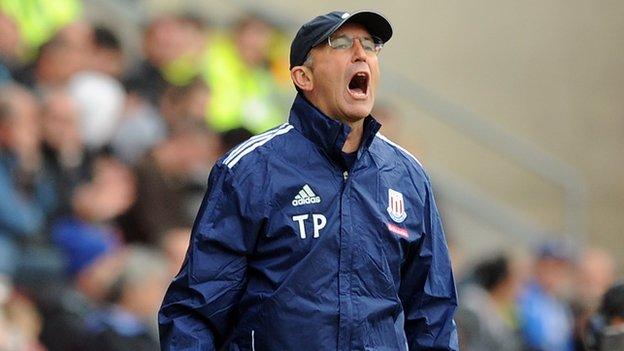 Stoke City manager Tony Pulis has called on his players to continue preparing for matches in the right manner ahead of the season finale.
The Potters are winless in five games in all competitions and lie 13th in the Premier League, and Pulis is keen not to let the campaign fizzle out.
"People can get a little bit blase about what we're doing," he told BBC Radio Stoke.
"If the players believe what they read in the papers then they drop a level."
Stoke were outplayed by relegation strugglers Wigan on Saturday, a game that came on the back of fixtures against Chelsea, Liverpool, Tottenham and Manchester City.
And Pulis reiterated that preparations for all games should be equal, adding: "Whether it's Wigan, Wolves, Tottenham or Liverpool, they're all tough games.
"If you don't approach them in the right manner you can drop down. You can't do that and that's what affects everybody."
Despite his frustrations, the Welshman is reluctant to criticise his squad too strongly, and said he remained positive that the side's results would improve in the remainder of the season.
"It's very difficult to be critical. They're human beings and they play well and they play badly, like everybody does.
"It's difficult for me to have a go at them, they've been so good over the season.
"I just hope it's a one off, and is out of our system and we play a lot better against Wolves and Aston Villa."