Dunston UTS's Billy Irwin delight at FA Vase final spot
Last updated on .From the section Football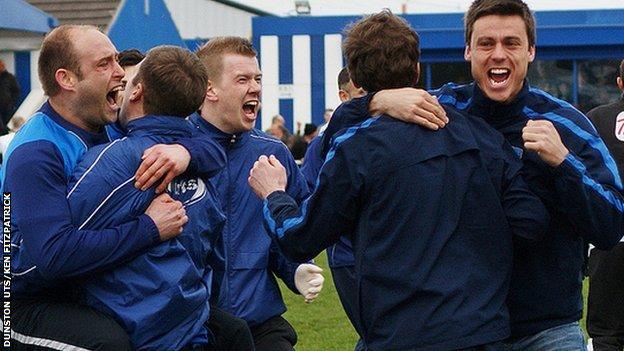 Billy Irwin has expressed his delight at leading Dunston UTS to the FA Vase final at Wembley with a 3-2 aggregate win against Staveley Miners Welfare.
The Fed drew 2-2 in the second leg of their semi-final in Derbyshire to wrap up an all-Northern League final with West Auckland Town on Sunday, 13 May.
"I'm so emotional at the moment," manager Irwin told BBC Newcastle.
"I'm going to be leading my hometown team out at Wembley, that's what football is all about."
Success for Dunston UTS and West Auckland Town means the FA Vase has had Northern League representation for four consecutive seasons, following Whitley Bay's trio of successes in 2009, 2010 and 2011.
The hero for Dunston was 25-year-old Steven Goddard, whose late goal sealed ten-man Dunston's place in the showpiece.
The former AFC Wimbledon and Leatherhead striker guided the ball home via the crossbar with six minutes remaining after Andrew Bulford had replied to strikes from Simon Barraclough and Chris Coy.
"I'm so glad it went in," said Goddard .
"I'm so proud for everyone. The manager couldn't be better and I've got so far with other teams but now I'm in the final.
"My dream has come true, I'm lost for words and what I'm feeling inside is unbelievable."