Tottenham boss Harry Redknapp says season is 'going to the wire'
Last updated on .From the section Football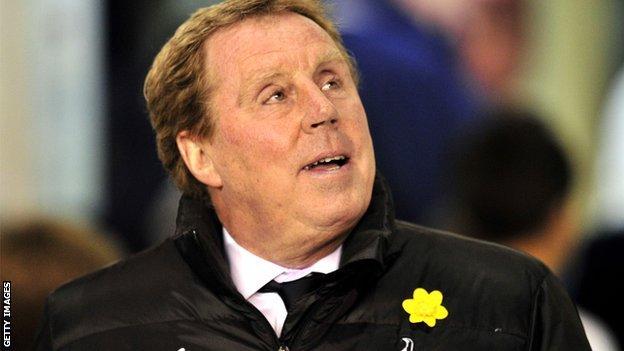 Tottenham boss Harry Redknapp has challenged his players to maintain their good form as they chase third place in the Premier League.
"It's going right to the wire," admitted Redknapp, whose side are unbeaten in their last four fixtures.
"We've got some massive games coming up, but that's what it's about."
Redknapp pointed to the seven Premier League games remaining this season, plus the FA Cup semi-final at Wembley against Chelsea on Sunday, 15 April.
"We've got to keep winning and picking up points," he said.
"You can't afford to slip up."
Redknapp was full of praise for Swansea manager Brendan Rodgers, whose side came from behind to pull level with Spurs through a Gylfi Sigurdsson strike on the hour.
Although Tottenham sealed the win with two Emmanuel Adebayor headers, Redknapp insisted Swansea proved tough opposition.
"They're a difficult team to play against," he said. "They pass the ball so well.
"Swansea really make it difficult for you. The way Brendan has set them up to play is fantastic and any youth coach should look at how he's got them playing.
"That's how we should be playing football in this country."
Tottenham midfielder Gareth Bale enjoyed a productive afternoon on the left wing, and the Wales international was involved in the build-up for his side's first and third strikes.
The 22-year-old admitted after the game that he feels in "fantastic" form.
"We got the three points and we're hopefully heading back up to third now," Bale said.
"Swansea are doing great this season and made it difficult for us today, but we showed our true class.
"We hit a little blip [in form] but we feel like we're back now and hopefully heading on to a good run-in towards the end of season."