Patosi relishing Belgian cup win with Sporting Lokeren
Last updated on .From the section Football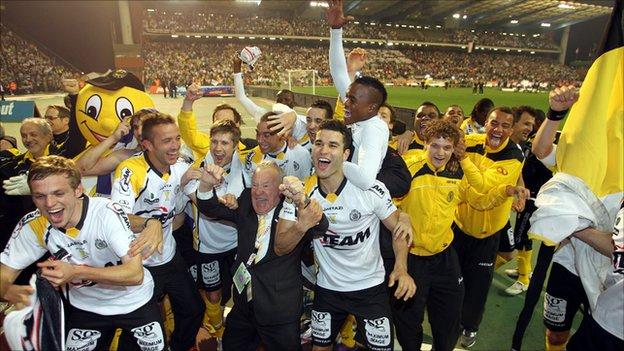 South African teenager Ayanda Patosi is relishing his first season of European football after helping Sporting Lokeren win the first major honour in their history.
The attacking midfielder, 19, was on the bench on 24 March as his side lifted the Belgian Cup in Brussels with a 1-0 victory over KV Kortrijk, thanks to a late strike from Tunisia's Hamdi Harbaoui.
But even though he was disappointed not to make it on to the pitch after making 17 appearances for Lokeren this season, Patosi admitted he is delighted just to have been part of the big occasion.
"It was amazing to win the cup - my best day in football so far," he told BBC Sport. "But I knew when we got the red card that it wouldn't be possible for me to go on.
"I was almost crying because I knew I wouldn't get a chance to play and that it would be very difficult for my team to win as well. But they came strong and it was so great."
Amidst the mixed emotions for the young Khayelitsha-born South African, there was some satisfaction from later discovering that coach Peter Maes had wanted to bring him on.
"The coach told me afterwards that he wanted to play me but it was still a great experience for me to be involved."
A product of the Africa Soccer Developments (ASD) academy in Cape Town, Patosi was one of four South Africans to be snapped up by Belgian clubs last year after they impressed on tour of the country.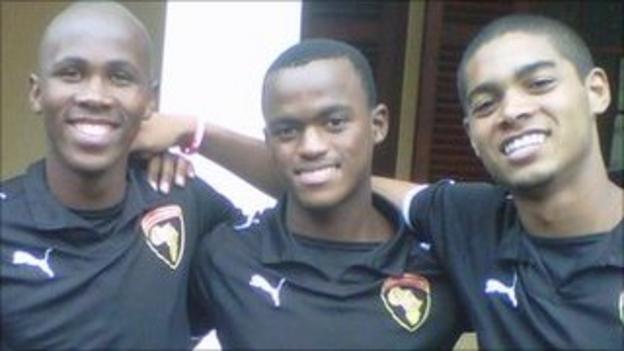 Financial problems recently forced Germinal Beerschot to release Lindani Ntomo and Sive Pekezela, but midfielder Ebrahim Seedat, 18, is now on the verge of forcing his way into the Lokeren first-team squad.
And with the club just having failed to make the top six and a place in the end-of-season Championship playoffs, Patosi expects his compatriot to make his debut very soon.
"The coach can give opportunities to players who haven't played much this season because we have already qualified for the Europa League," he said.
"I want to be playing every week, and hopefully Ebrahim will also start to play - he's really working hard and has been impressing the coach a lot.
"We're like brothers now because we have been living together in Belgium and he told me that when he sees me play for the first team, it really encourages him."
Heavyweights Anderlecht and Club Bruges both put in offers to sign Patosi before he eventually joined Lokeren in June.
Now with the prospect of European football on the horizon, he is delighted to have made the right decision.
"I think ASD made a good choice to select Lokeren for me because I'm learning so much every day and getting a chance to play," he said.
"I haven't found it difficult being away from home - I just told myself 'I will work hard for them' so I don't need to miss them. I'm here to play football and I want to go far, so I have to be strong just to achieve that."