Preston boss Westley claims four players leaked team and tactics
Last updated on .From the section Football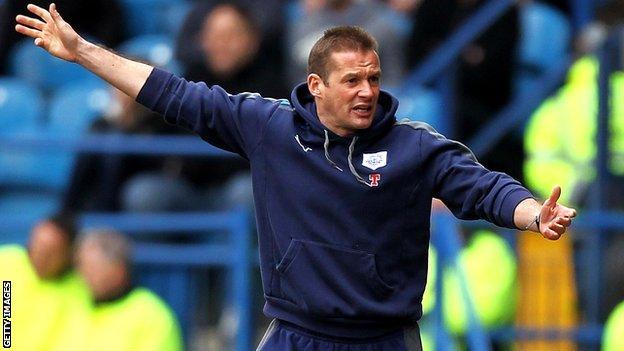 Preston boss Graham Westley has claimed that four of his squad leaked the team's tactics to Sheffield Wednesday ahead of their 2-0 defeat on Saturday.
After the game, the 44-year-old said the Owls bench had told him that they had known about Preston's line-up and game-plan before kick-off.
Westley told BBC Radio Lancashire: "That shows you what we are up against.
"It doesn't surprise me. When you have got people in your own camp working against you it is tough."
A Football League spokesman said it had no plans to investigate the claims.
"We regard it as a private disciplinary matter for Preston North End to resolve and it's unlikely we will be taking the matter further," he said
The defeat leaves Preston in 16th, just six points off the relegation zone.
"To stand in the dugout today and to be told by [Sheffield Wednesday's] dugout that four of our players had given our side to them says where our side is at," he added.
"I have to work on the basis that they wouldn't tell me a lie."
Preston's recent form has been poor, despite the club parting ways with former manager Phil Brown and recruiting Westley as his replacement in the New Year.
Westley took charge at Deepdale after leaving League One rivals Stevenage.
The Lilywhites have won just three games out of 17 played in 2012, though Westley insists he can guide the side clear of relegation.
"It is the job and I will get on with it, I will overcome it. You have to grit your teeth and be strong."
Preston striker Iain Hume later took to his Twitter account to deny that he or any of his fellow players leaked team information before Saturday's fixture.
"Can't see [it], and hopefully [I'm] proven right, that any of my team mates would divulge info[rmation] like that," he said.
"We're close and it needs to stay that way!"
Preston's next game is at home to Milton Keynes Dons on Saturday, when Deepdale will pay tribute to club legend Sir Tom Finney who will be celebrating his 90th birthday.