Rangers' Dave King questions Sir David Murray's 'duped' claim
By Alasdair Lamont
BBC Scotland
Last updated on .From the section Football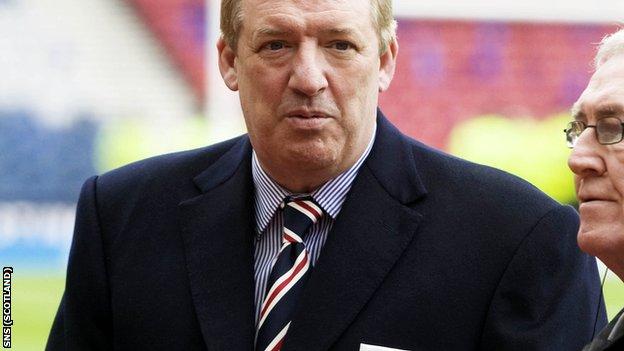 Rangers director Dave King does not believe the claim by the club's former owner, Sir David Murray, that he was "duped" by his successor, Craig Whyte.
Murray said recently he would not have sold the club to Whyte if he had known how things would transpire.
Whyte put Rangers into administration.
"I do not believe that there will be a single person in Scotland who has dealt with both gentlemen that would believe that Craig Whyte had the capacity to dupe David Murray," he said.
King also told BBC Scotland that he does not believe a foreign consortium would succeed as the club's new owners.
Two of the three groups invited to submit final offers by Wednesday are from overseas and liquidation could be the preferred option by some of those.
"I don't see a foreign consortium succeeding," said King, who reiterated his view that liquidation is inevitable.
"But I would have no concern, in principle, if committed and transparent funds were available."
The club's administrator, Duff & Phelps, has acknowledged for the first time that liquidating Rangers could be the preferred option of some of the bidders.
King, also the second biggest shareholder at Ibrox after Whyte, said that nothing that had transpired since stating three weeks ago that such a scenario was inevitable had made him alter his opinion.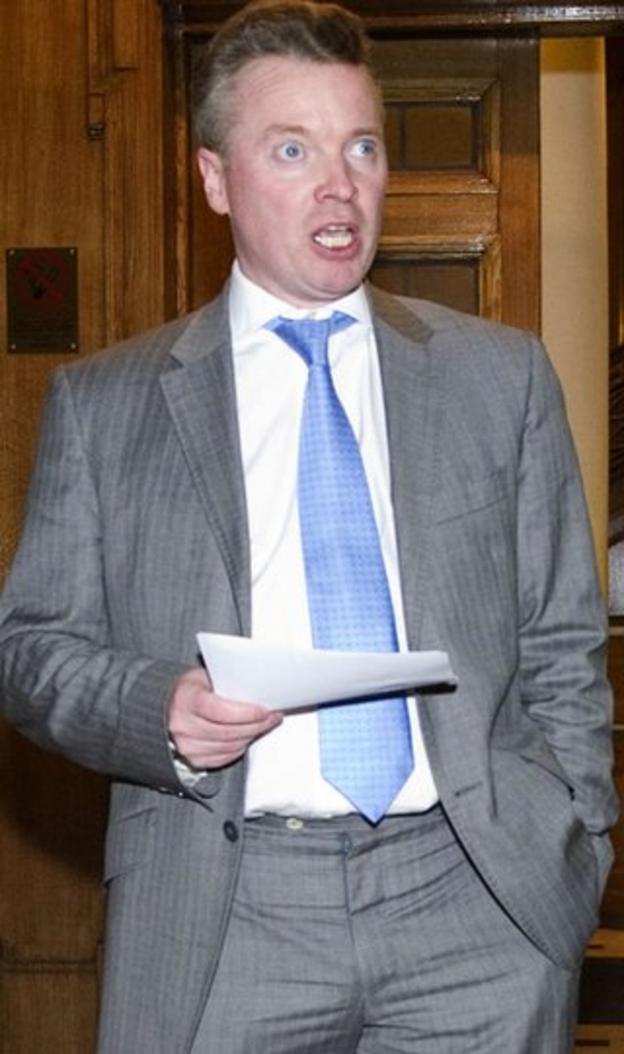 "Acquiring the club would be the easy part from a funding perspective," he told BBC Scotland.
"The future funding needs are substantial and should be the key consideration in any transaction.
"None of us want to go through this in another year."
Still in the running to take over the Scottish champions are Chicago-based Club 9 Sports, the Blue Knights, headed by former Ibrox director Paul Murray, and a Singaporean consortium.
King said he agreed with Murray, who on Saturday told BBC Scotland he did not understand why the administrators had not begun a legal challenge to gain control of Whyte's 85% shareholding at the beginning of the administration period.
Murray is in talks with Ticketus, the firm who bought several years of season tickets from Whyte.
Asked about Murray's relationship with Ticketus, whose money funded Whyte's takeover, King said: "I believe that the Ticketus claim will ultimately not survive legal scrutiny.
"But I accept that they 'have a seat at the table' until the claim is resolved and, on that basis, it might be better to be talking to them."
Duff & Phelps would prefer to move out of administration through a company voluntary arrangement (CVA) but has now given serious credence to the possibility of the club having to be liquidated.
"The preferred option remains a CVA and it remains an option for all of the bidders," co-administrator Paul Clark told a number of newspapers.
"And we still think it's achievable and we're still recommending that as the preferred course of action to the bidders.
"We must accept, though, that we have in Rangers a financially-stricken institution and there is an amount of toxicity in there as a result of what's gone on.
"So all of the options have to remain open and it may be that some of the bidders decide that they would rather start afresh.
"We cannot rule out the winning bid could prefer a different structure that meant the sale of the business to a new company and in that eventuality it is certainly possible that Rangers would be liquidated.
"But it would only be done so after the football club was made safe."