Brendan Rodgers happy to stay as Swansea manager
Last updated on .From the section Football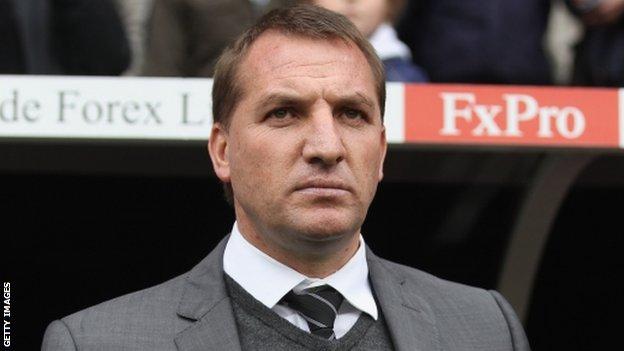 Swansea manager Brendan Rodgers insists he is happy at the club and believes his challenge lies in establishing the Swans as a Premier League side.
But he told BBC Radio 5 live's Sportsweek: "I would tell anyone who asked that I'm happy at Swansea.
"I love being here, I'm at a top club. I want to finish as high as we can."
The former Reading and Watford boss conceded that he wants to challenge for trophies at some point in his career but is in no rush to leave the Welsh club.
"Every manager will tell you they want to get to the top of the mountain and challenge for trophies," he said.
"But I learned [when leaving Watford for Reading] that I tried to run all the way there, I fell over and fell all the way down.
"I've now found a club that's perfect for me. I'm 39 years of age so I hope to have longevity, and somewhere down the line I hope to have the opportunity.
"If I ever feel I've taken the club as far as I can then I'll sit down with the chairman and we'll go our separate ways.
"But the club may sack me, that's another possibility. You can be flavour of the month one week and then be out of a job four or five months later."
Swansea head into Sunday's trip to Tottenham in 10th place after a strong run of results which has seen them beat Manchester City and Arsenal at home, as well as holding Chelsea to a draw.
Rodgers' side have also won plaudits for their passing game but the Northern Irishman sees long-term survival in the top flight as a big challenge.
He said: "I had belief that we could retain our identity and style and win games, and that's how it has panned out.
"You have to remember a lot of these players have played at the lower levels and all of a sudden they are on the global stage. I always felt it would take us six months to settle in and get some wins.
"Our objective was to retain our status and hopefully we can do that, but it's going to be very difficult to establish ourselves.
"People talk about second season syndrome but it will always be difficult - third, fourth or fifth, whatever. We believe we can be a sustainable club but it will be difficult, we have nowhere near the resources of some other clubs.
"On paper it should look a mismatch but that's our challenge - to become competitive and do the very best we can."