Fifa to address insurance of injured internationals
Last updated on .From the section Football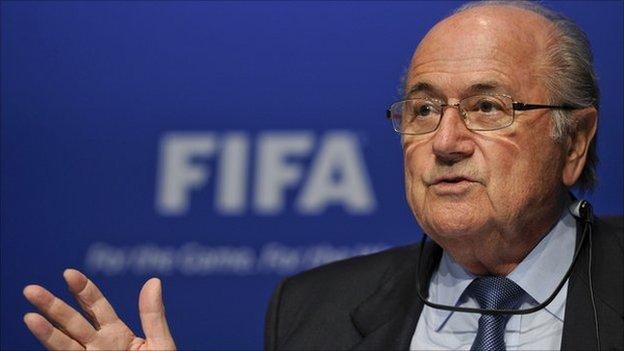 Football's world governing body Fifa has set aside US$100 million to insure the salaries of all players against injury on official national team duty.
Fifa president Sepp Blatter has said the worldwide policy should take effect on 1 September and will cover all games played on international calendar dates.
The move will satisfy European clubs who have campaigned for help to pay the salaries of injured internationals.
Fifa's 208 member nations must approve the policy at their congress in May.
The next congress is set to take place on 25 May in the Hungarian capital Budapest.
With club-versus-country tensions a perpetual issue for Fifa to address, Blatter acknowledged that the insurance scheme was overdue.
"Perhaps we should have done so a long time ago," he said at a news conference. "It's to the benefit of everyone from Djibouti to Italy."
European football body Uefa has already pledged to insure players at June's European Championship.
Elsewhere, the world governing body appeared to put itself back in conflict with some clubs over the traditionally contentious issue of releasing players for the Olympic Games.
"The executive decided that the release of under-23 players by the clubs shall be compulsory," Fifa said in a statement.
Fifa decided upon the compulsory rule for clubs to release players aged under-23 for July's London Olympics, even though clubs are legally not obliged to cooperate because the tournament is not protected on the international calendar.
The new compulsory release ruling conflicts with a Court of Arbitration for Sport ruling ahead of the 2008 Beijing Olympics that upheld clubs' right to retain their players.
The 2008 Olympic football tournament was marked by a tug-of-war between Barcelona and Argentina over the release of Lionel Messi, which went to the Court of Arbitration for Sport (CAS).
CAS ruled in Barcelona's favour but the Catalan club then decided to release him in any case and Argentina went on to win the tournament.
The football tournament at London 2012 kicks off on 25 July, the first competitive action of this year's Olympic Games.