Prospective owner Paul Murray fears for Rangers' future
By Alasdair Lamont
BBC Scotland
Last updated on .From the section Football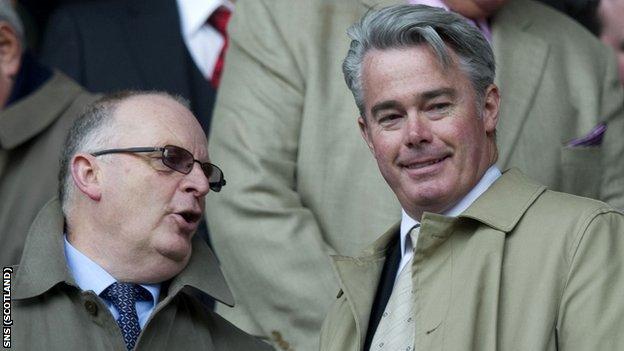 Prospective Rangers owner Paul Murray fears exiting administration via a company voluntary arrangement may not be possible.
That is unless substantial steps towards a takeover are taken within a couple of weeks.
And the former Ibrox director believes a lengthy legal battle with Ticketus could be "disastrous" for the club.
Murray is continuing to negotiate with the finance firm as he works towards making a final bid by Wednesday.
"We will be bidding and I sincerely hope the administrators choose us," he told BBC Scotland.
But Murray is not yet sure whether his Blue Knights consortium's bid will have Ticketus onside or not.
He remains convinced it is better to include the firm, whose money financed Craig Whyte's takeover of Rangers, rather than have them join the list of creditors.
Yet he maintains that he will only do business with Ticketus if it can restructure that £24m deal to suit the club.
"I'm working flat-out over the weekend to try to come to an agreement with Ticketus," he said.
"I need to be in a position by Monday to firm up our bid so that it can be submitted by Wednesday.
"Without Ticketus, it makes a CVA solution more difficult because, if the administrators terminate the contract, they'll become the largest unsecured creditor and able to block a CVA.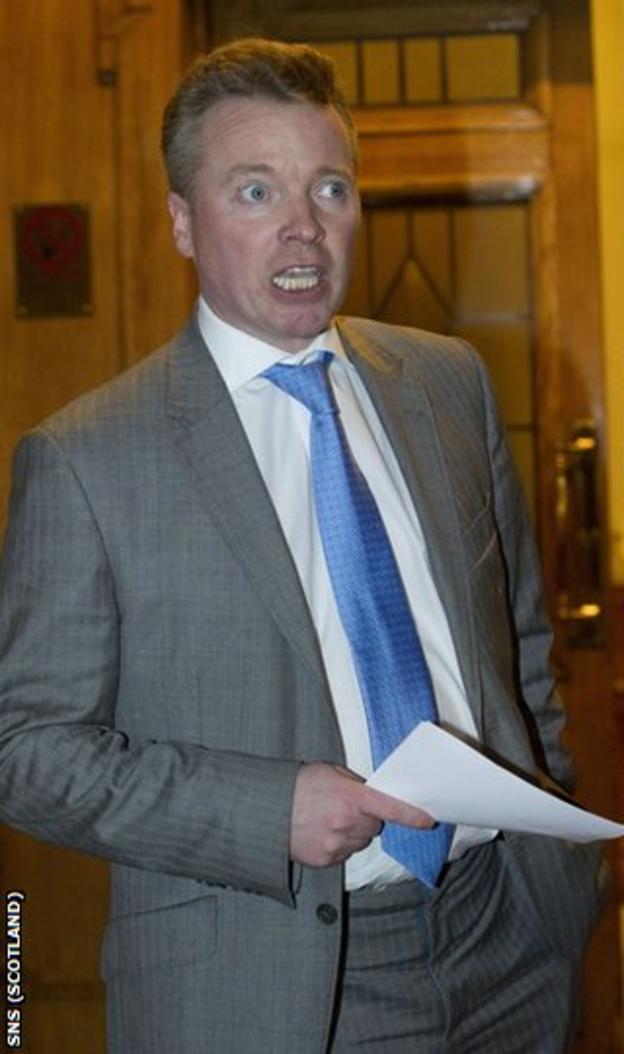 "That would also lead to a very messy and complicated legal process. A six-month legal battle could be disastrous for the club."
Murray remains hopeful an agreement will be reached.
"Both parties recognise this is a pragmatic solution, which is a good starting point," he said.
Either way, Murray believes it is imperative a new owner is able to start working as soon as possible.
"There are so many things to sort out - player contracts for instance," he explained.
"If it's not resolved in the next couple of weeks, I fear they might not be able to do a CVA."
And, of course, the elephant in the room remains the position of Whyte as majority shareholder and, certainly in the present owner's view, if not that of the administrator, secured creditor.
Murray says he was told this week by the administrator that Whyte would not hand over his shares to him, so how does he square that particular circle?
"He didn't say he wouldn't deal with other members of my consortium," Murray went on.
"But the administrators believe there are legal mechanisms to get the shares from Craig Whyte.
"What I'd say is, why didn't they start that legal action seven weeks ago, rather than now?
"The last thing Rangers need is more protracted legal battles."
Asked whether he believed Whyte would benefit financially in the long run from the eventual outcome, Murray said: "I have zero interest in providing him with anything.
"I don't know what other bidders would do."
Meanwhile, former Rangers manager Walter Smith feels it's important that the sale of the club is completed quickly to remove uncertainty for the fans.
"It's more encouraging for the supporters that it seems to be moving on," he said.
"The supporters, like everybody else, are getting a little bit frustrated by the length of time it's taking. Hopefully it can move on sooner rather than later.
"If it's settled, the better it'll be for everybody."