Fabrice Muamba: family release hospital picture on Twitter
Last updated on .From the section Football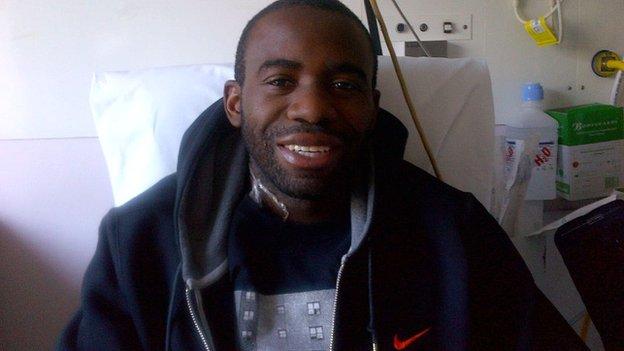 The family of Bolton's Fabrice Muamba has posted a picture of him on Twitter from his hospital room.
It is the first public photo of Muamba since he suffered a cardiac arrest in the FA Cup tie against Tottenham at White Hart Lane on 17 March.
The 23-year-old collapsed on the pitch after 41 minutes of play and was "dead" for 78 minutes.
He was given mouth-to-mouth resuscitation and 15 defibrillator shocks before he reached hospital.
The former England Under-21 international was rushed to the intensive care unit of the heart attack centre at the London Chest Hospital, where he has remained since.
The picture was tweeted on his behalf by his fiancee Shauna, who said: "Fab wanted me to post this pic for you all and to also say thank you for such overwhelming support."
Muamba was given 15 defibrillation shocks in total - two on the pitch, one in the tunnel, and 12 in the ambulance - each giving a 300-joule electric shock.
The day after Muamba collapsed, Bolton and the London Chest Hospital reported that he was moving his arms and legs, breathing independently and able to recognise family members and respond to questions appropriately.
Dr Andrew Deaner said that he was able to talk to Muamba a few days after the attack, and described the recovery as "miraculous".
The cardiologist was at White Hart Lane to watch the game and came from the crowd on to the pitch to help Muamba.
Dr Deaner spoke to Muamba after he was taken out of his medically induced coma, and was heartened that the footballer was able to make a joke just two days after the cardiac arrest.
"I whispered into his ear, 'What's your name'," recalled Dr Deaner, with Muamba giving his name in response.
"I said, 'I understand you're a very good footballer'. And he said 'I try'."
Bolton doctor Jonathan Tobin helped treat Muamba in the ambulance.
Tobin said: "It was 48 minutes from the time he collapsed to the time he reached the hospital and it was a further 30 minutes in the hospital they were working on him without his heart having a muscular beat.
"In effect he was dead in that time. We were fearing the worst and didn't think we'd get the recovery we had. It's incredible."
Professional Footballers' Association chief executive Gordon Taylor told BBC Sport: "Seeing Fabrice Muamba smiling is the best news of 2012.
"The football family coming together and the quality of the medical assistance has been a really good news story. We all hope and pray that it continues."
It is not known whether Muamba will ever be fit enough to play top-flight football again, but Trotters chairman Phil Gartside says the club will find a role for him should he have to retire.
"He will be here as long as he wants to be," Gartside told BBC Radio 5 live.
Zaire-born midfielder Muamba has made 148 appearances for Wanderers since joining from Birmingham for £5m in June 2008.