Bournemouth squad happy with new footballing principles
Last updated on .From the section Football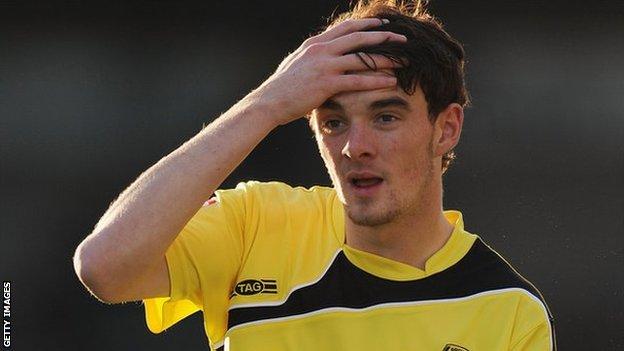 Bournemouth's players are buying into their new bosses' football principles, according to full-back Scott Malone.
Malone scored in the Cherries' 2-2 midweek draw at Stevenage, the first match overseen by interim managers Paul Groves and Shaun Brooks.
The club's former youth team bosses took over after former manager Lee Bradbury claimed he had been dismissed.
Malone told BBC Dorset: "We may have over-played at times, but I think that's the way we are going to go."
Stevenage manager Gary Smith later admitted he thought Bournemouth's quality of football in the opening 20 minutes had been as good as any he had seen since being at the club.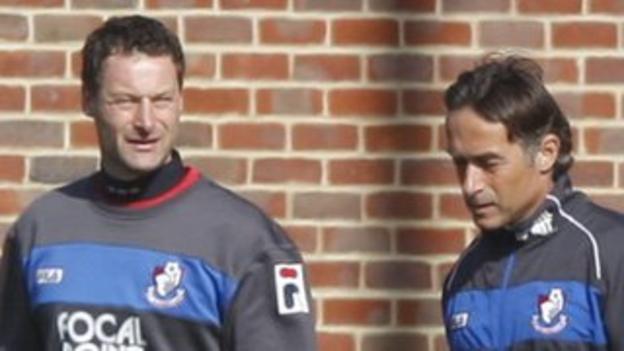 Malone said: "It was nice to hear that, and if we hadn't been playing Saturday-Tuesday for a couple of weeks I think we could have maintained it for 60 or 70 minutes.
"We blew up towards the end, but the principles are there and I think we are going places."
The former Wolves defender, who says the Cherries want 50 points to ensure they are safe from relegation, revealed he had learned about Bradbury's departure on social networking site Twitter.
"It isn't a nice way to find out, but football can be like that. We had a meeting, one training session and that was it, but the two new lads tried to make us play football, and we passed it well," he said.
"They have different principles to what Bradders had, we have to buy into what they are trying to do, and I think we made a good start."
Bournemouth, who face Yeovil on Saturday, are currently on 49 points.