Celtic fined £21,000 by Uefa over banner in Udine
Last updated on .From the section Football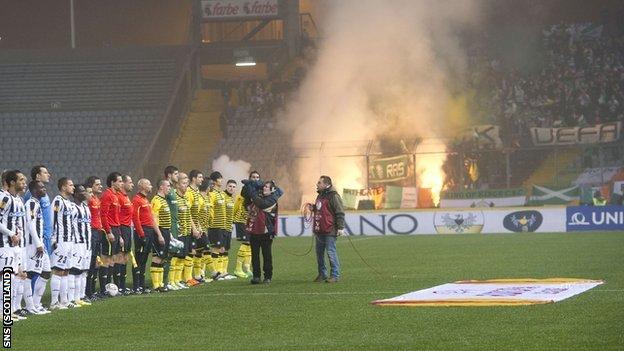 Celtic have been fined £21,000 by Uefa for fan-related incidents during their Europa League match against Udinese.
Uefa charged Celtic with "the displaying of an offensive banner and setting off of fireworks by fans" in their match in Italy on 15 December.
The incidents had been included in the match delegate's report.
Celtic banned a fan for life who they said was responsible for displaying the banner and attacking a steward in Udinese's Stadio Friuli.
Uefa has confirmed that Celtic were fined on 23 February for breaching article 11 of its disciplinary regulations.
Those regulations include prohibiting the lighting of fireworks and "the use of gestures, words, objects or any other means to transmit any message that is not fit for a sports event, in particular if it is of a political, offensive or provocative nature".
The banner displayed during the match criticised European football's governing body.
Celtic were fined £12,700 by Uefa in December for what was described as illicit chanting by Celtic fans in another Europa League match against Rennes.