Northern Irish coach out to relaunch career in Zimbabwe
By Steve Vickers
BBC Sport, Harare
Last updated on .From the section Football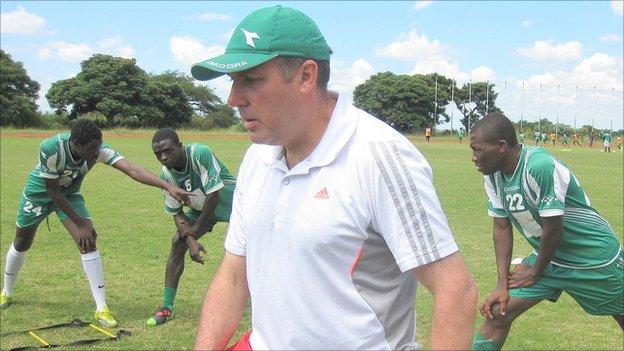 Northern Irish coach Sean Connor says he has moved to Zimbabwe to relaunch his career rather than for the money.
He has joined Harare club CAPS United as he aims to get his career moving in the right direction again.
He had a good record in the League of Ireland until moving to Galway United, but the club ran into serious financial problems last year and went on a 23-match losing run, an Irish record.
"Up until then my CV had been fairly decent," Connor,44, told BBC Sport.
The league kicks off this Saturday, and Connor is the first European coach to venture into Zimbabwean club football in almost 10 years.
After the spell at Galway Connor decided he needed to look further afield in order to relaunch his coaching career.
"I'd been trying to get jobs in England and Scotland, and I felt that after last year at Galway that I might need to do something different on my CV to fulfil that ambition.
"There were three or four opportunities that I was offered and I feel that CAPS United is well-run and the club facilities are fantastic so hopefully it's a start to reinvigorating my career."
Connor has a two-year contract with CAPS United, who are among the country's three best-supported clubs but last won the league in 2005.
He believes that coaching in Africa is not merely about passing on his own knowledge, but that the continent offers European coaches opportunities to develop.
"I'm out here to see if the philosophy and the ideas that I have can work in a different environment and to see what I can pick up here and see what qualities of African football I can add to my skill set," he said.
"It's a massive change of direction, some people that I spoke to had their doubts and felt that I might be forgotten about being here.
"I could have sat at home and waited for someone to get the sack but I've been in that situation and it's not nice.
"So I thought that the worst that can happen [by coming to Africa] is having a life experience and experience a different football culture and that can only make me a better manager."
Connor went into coaching at a young age as a car accident curtailed his playing career.
"I don't think there's a club that I haven't left in a better position than I found it, besides the situation at Galway, where the monthly budget was tiny and it wasn't even getting paid towards the end," he explained.
"It's frustrating because it shows you how fickle football can be because one bad season can really damage your reputation and your career."