Furious Ahly boycott Egyptian game after FA decision
By Piers Edwards
BBC Sport
Last updated on .From the section Football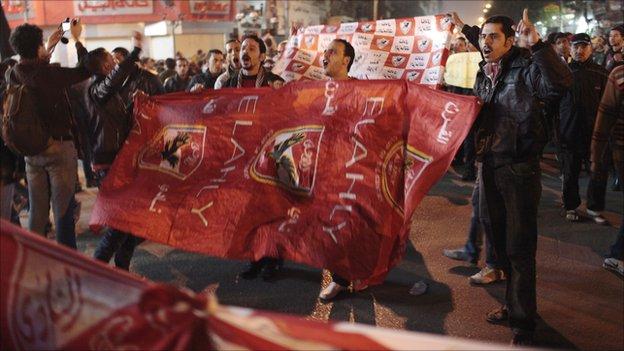 Cairo giants Al Ahly are to boycott domestic football in the wake of the decision by the Egyptian FA (EFA) to suspend al-Masry for two years.
Ahly say they will not play locally until the interim EFA board is changed.
Egypt's league was cancelled in the aftermath of the Port Said disaster, with the 2012/2013 season set to get underway in August.
Officials at Ahly also plan to sue al-Masry through the civil courts, for failing to provide security at the game on 1 February.
Ahly's return to domestic football is unclear since the chairman and board of the EFA left their positions following the public outcry at the scale and nature of the disaster.
No timeline has yet been set for when a new General Assembly will take place to determine a new executive board for the EFA, although some expect this to happen after the Olympic Games end on 12 August.
"We have decided not to participate nor contribute in any activity organised by this temporary committee managing the federation," Ahly board member Khaled Mortagy told BBC Sport.
"We believe that this was nor a fair nor just decision and we have refused these decisions completely."
"I don't think any league or national competition without Al Ahly would make anyone excited about sponsoring such an activity," Mortagy said about the country's most successful club.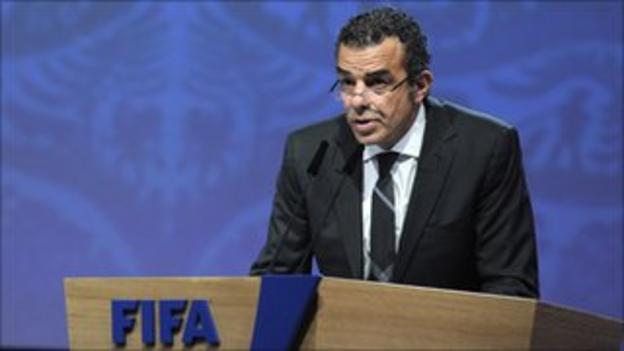 In addition, the six-time African champions - deemed the 'Club of the Century' by the Confederation of African Football in 2000 - have confirmed that they will appeal the decision.
With regard to a potential legal case against the Port Said club, Ahly say they will give the proceeds of any damages paid to the victims' families should these arise.
"At the end of the day, the security of our players, team and fans - when we go to play an away game - is the responsibility of the hosts," said Mortagy after an emergency Ahly board meeting on Monday night.
One of football's worst disasters of recent times started after al-Masry won the league game 3-1, whereupon their fans invaded the pitch, attacking Al Ahly players and fans.
Last week, Egypt's chief prosecutor charged 75 people with murder or negligence over the violence.
On Friday, the EFA barred al-Masry from football for two years while banning the club from playing a match in their home ground for three years.
The decision sparked anger from both clubs involved in the tragedy, and a 13-year-old boy died on Friday night as Masry fans clashed with security forces while protesting against the ruling.
With the al-Masry president and board resigning en masse after the disaster, there has been no official reaction from the club to the EFA ruling.
Meanwhile, Al Ahly will continue to prepare for the African Champions League, having been held to a goalless draw by Ethiopian Coffee on Sunday ahead of the return leg in Cairo on 06-08 April.