Norwich City can focus on next season - David Fox
Last updated on .From the section Football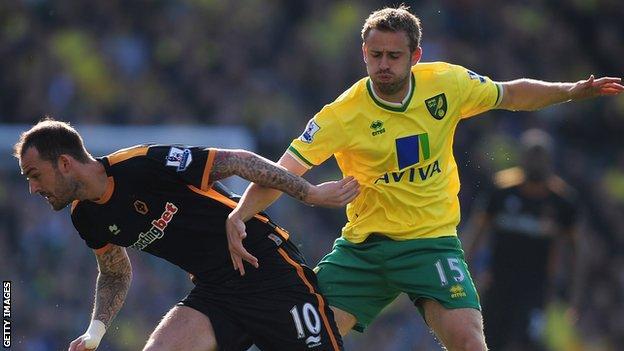 Midfielder David Fox believes Norwich City can turn their attention to next season rather than Premier League survival after victory over Wolves.
"We kind of knew another win was what we needed and we've got that win now," Fox told BBC Radio Norfolk.
"I think we can start looking up a bit. We've got eight important games to play for and we want to finish on a high."
Norwich earned promotion to the top flight by finishing runners-up to QPR in the Championship.
And Fox hopes City can string together a run of results at the end of this season to lay the groundwork for a successful follow-up campaign.
"We want to keep momentum going and to finish the season strongly and take that into next season," said the 28-year-old.
"The momentum we had from last year has stood us in good stead and we don't want to lose that. We want to keep progressing as a club."
Victory over Wolves, which saw Norwich come from a goal down to claim three points, ended a five-game run without a win for Paul Lambert's side.
The streak included single-goal defeats by Manchester United, Stoke and Newcastle, as well as a draw with Wigan and an FA Cup loss at the hands of Leicester City.
"There's been no real panic among the boys because we know we've been playing well," added the former Colchester United player.
"Man United at home and Newcastle away are tough games but we played well and unfortunately didn't get results.
"We've probably played better in other games [than against Wolves] and not won. It's nice we weren't at our best and were ale to pick up a result."