Swansea stars will be big-club targets, warns David Pleat
Last updated on .From the section Football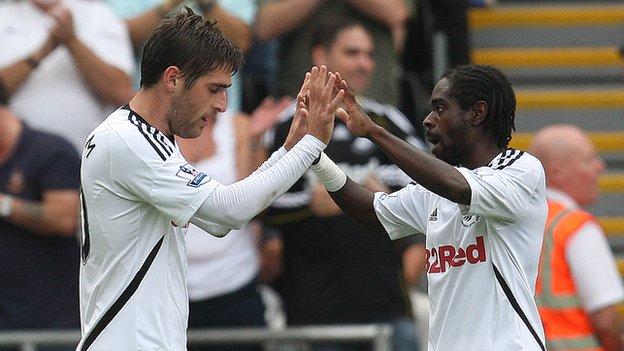 Swansea City have been warned their star players' heads could be turned by lucrative offers from bigger clubs.
Former Tottenham Hotspur boss David Pleat believes players such as Danny Graham and Nathan Dyer are likely to become big-money transfer targets.
Swansea have defied many predictions by all but securing Premier League status with eight games remaining.
"It's a wonderful thing that's happened to them. Now the trick... is maintaining [the players]," said Pleat.
He says the situation could get problematic once boss Brendan Rodgers' players start to realise they have gone from almost journeymen status to "stars".
The Swans, who face Spurs on Sunday, are set to tie down Scott Sinclair and Leon Britton on new contracts but others could be prised away.
"The good thing in their favour is that players appreciate Swansea because most of them like [Ashley] Williams, Graham and Dyer come from lesser backgrounds, they come from reserve football or the first division [Championship]," added Pleat.
"They are not stars. They don't believe they're stars yet and that's a wonderful thing.
"But once they start believing they're stars and they want the bigger money and they want to go to greener pastures. That's when the problems start.
"When your players start doing well other people start looking at them.
"And then you start thinking: 'can we resist this offer?' But you rarely spend the money you receive as well as the asset that you have allowed to leave. It's very difficult to do that.
"So they have to be very sensible with the contracts. It's how they handle those contracts. So absolutely vital."
But Britton, who is set to sign a three-year contact this week keeping him at the Swans until 2015, told BBC Radio Wales there is little incentive to leave the club at the moment.
"I think you would be a bit silly maybe to leave Swansea unless it was for one of the big four or five in the country," he said.
"If you move to someone outside of that you are probably taking a sidewards step.
"The only other thing is money. Maybe that could play an issue with some players going to other clubs to give you better wages.
"You can understand if players leave for a top four of five club because they are pushing on and playing Champions League football."
But, while he worries for Swansea off the field during the close season, Pleat says he has been very impressed with them on it.
"No one really expected them to be challenging at the top end of the table," he added.
"Everyone thought it might be difficult for them but they have proved by sticking to the faith, playing passing football, working hard being brave... they have produced a brand of football that have had everyone talking about them. I think that is fantastic.
"It's good to see them have the confident to keep the ball.
"They have done marvellously well but they mustn't take the pressure of themselves [for the rest of the season]. They must continue to believe they are fighting to stay in the league even though we know they are not.
"Because if they start relaxing too much I can assure you they will start slipping. That's when you are vulnerable."