Ahly target African crown to 'honour' Port Said dead
By Piers Edwards
BBC Sport
Last updated on .From the section Football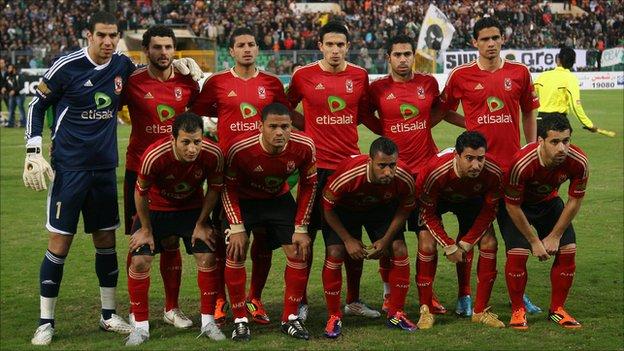 Al Ahly officials are targeting African Champions League glory to honour the 74 fans who died in last month's stadium disaster in Port Said.
On Sunday the Egyptian giants drew their first competitive match since the tragedy 0-0 against Ethiopian Coffee.
"If these martyrs were living, they would love Al Ahly to win the Champions League and reach the Club World Cup," said board member Khaled Mortagy.
Egypt's local football was cancelled after the disaster on 1 February.
The only teams to have played any competitive football are Al Ahly and Cairo rivals Zamalek, who have both been involved in continental club competition.
While maintaining fitness has been a problem for both sides, Al Ahly's plight has been made more challenging by the need to raise the morale of players who witnessed shocking scenes.
Earlier this month, Egypt's chief prosecutor charged 75 people with murder or negligence over the riot that followed the match, with al-Masry fans invading the pitch to attack Al Ahly players and fans.
Most of the dead were crushed or stabbed to death, while another 1,000 spectators were injured amidst appalling scenes.
"Emotionally and morally, the players are not back to normal but we are trying to motivate them to win the Champions League to honour the martyrs and their families," Mortagy told BBC Sport.
"I think the event is too huge on anybody really to grasp, when you see people - fans who were actually cheering you - dying in dressing rooms in front of players for no justified cause.
"It's easy to say you can overcome such a tragedy, but these players actually lived through difficult moments - and it's very difficult to overcome them in just a few weeks.
"We have been counselling them and are trying to encourage them to play their game for a cause. It's up to the players to hopefully get themselves out of this (challenging moment) and it's very difficult, but we hope they can overcome this soon.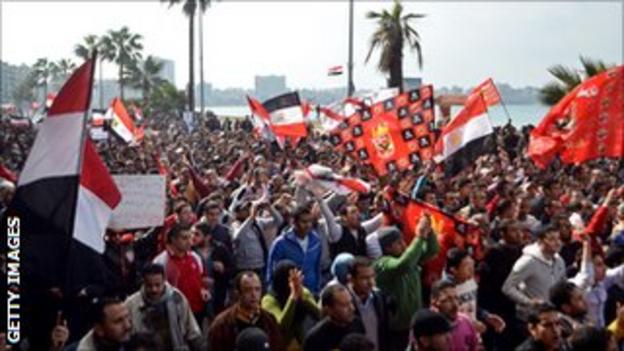 "One of the main things that can help them overcome this tragedy is a fair trial and fair justice - and sporting sanctions on al-Masry which are equal to this huge tragedy."
Al Ahly attempts to play friendly matches at home have also been frustrated in recent weeks, with police refusing to sanction any games because of security concerns.
Such fears also prompted the cancellation of a proposed Martyrs Cup tournament to fill the football void in a North African nation which has experienced more than 12 months of political turmoil since the overthrow of former president Hosni Mubarak.
The six-time African champions embarked on a recent tour of United Arab Emirates to prepare for Sunday's game in Addis Ababa, but the games "were not right, nor enough preparation" according to Mortagy.
The winners of the African Champions League represent the continent at Fifa's Club World Cup, which is traditionally staged at the end of the year.