Rangers could face SPL expulsion over alleged player payments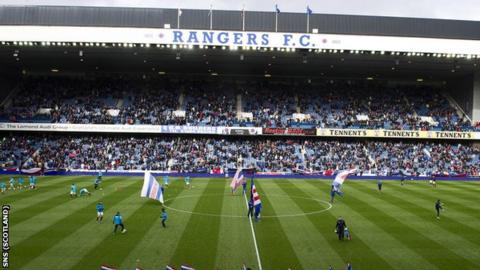 The Scottish Premier League chief executive Neil Doncaster says Rangers could be expelled from the competition if the club has failed to disclose payments to players.
The SPL will investigate if additional payments were added to player contracts and if regulations were breached.
"The most serious sanction would be expulsion from the league," said Doncaster.
"At the other end, in terms of the most lenient, it would be just a warning."
The Scottish Football Association was already aware of the claims that further payments were made in addition to the main player contracts, made by former director Hugh Adam.
Adam said that some payments were not included in official contracts that were registered with the SPL and Scottish Football Association.
A brief statement from the SPL said: "The SPL Board has instructed an investigation into the alleged non-disclosure to the SPL of payments made by or on behalf of Rangers FC to players since July 1, 1998.
"SPL rules F1, G1.1 and G1.5 give the SPL Board wide powers of investigation into potential breaches of the SPL rules.
"SPL rules D9.3 and D1.13 impose a prohibition on players receiving payments for playing football or participating in an activity connected with football except where such payments are made in accordance with a form of contract approved by the SPL and require that all such contracts are submitted to the SPL within 14 days of being entered into."
Doncaster told BBC Scotland that failure to disclose any such payments would be a direct contravention of the SPL's rules and if proven would result in one of 18 possible punishments.
"The SPL rules are quite clear: any payments made to players have to be in contracts and provided to the SPL as part of the player registration process," said Doncaster.
"If it is the case that there have been some payments outside of those contracts that have not been disclosed to the SPL, then that could mean the SPL rules have been breached and the next step would be to move to some form of punishment.
"There is no set sanction for any breach - there is a range of 18 possible sanctions.
"It is for any board or body that hears the disciplinary hearing, if they establish that there has been a breach of the rules, to apply the appropriate sanction.
"It is the party doesn't agree with it then they would have the right of appeal.
"Nothing is prevented under the rules. Whatever the appropriate sanction is deemed to be is what the board can apply."
In a Daily Mail interview, former Rangers director Adam claimed that Ibrox board was aware of the widespread use of an Employee Benefits Trust scheme.
A high-profile first tier tax tribunal will deliver a verdict soon on the EBT arrangement deployed by Rangers under the stewardship of former owner David Murray.
Regardless of that ruling, any 'off-the-books' payments to players would be a clear breach of SPL and SFA statutes.
"We will be looking into it and taking whatever action is necessary," said SPL chief executive Neil Doncaster.
"We'll be dealing with the administrators at Rangers to establish the facts, to establish whether there were any payments that were made that were undisclosed at that time.
"If there are, then we'll take that forward.
"Our role here is to apply the SPL rule book.
"We'll conduct the investigation as quickly as we can."