FA will not appoint England boss until 'back end of the season'
Last updated on .From the section Football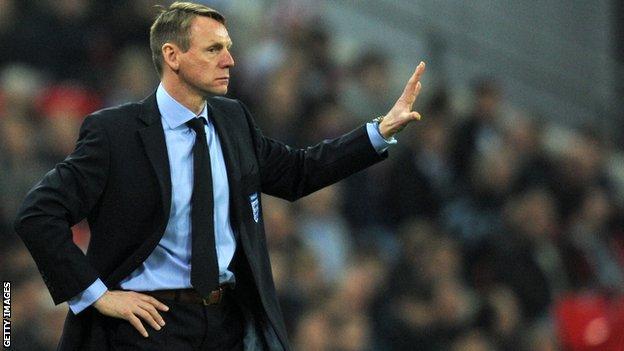 The Football Association will wait until the "back end of the season" to appoint a new England manager.
Alex Horne, general secretary of the FA, said the governing body will not be rushed into making an announcement.
"There's definitely a list. [We] talk about it regularly," he told BBC Sport. "It's a back end of the season decision for us.
"A lot of the managers on the list are employed and we don't want to interrupt anyone's season."
Horne's comments echo those of director of football Sir Trevor Brooking, a fellow member of a four-man committee that also includes FA chairman David Bernstein and Club England managing director Adrian Bevington.
They have been charged with identifying a list of candidates to succeed Fabio Capello.
"I think we'll take our time, and try to make sure we're not locked into any particular time scale," said Brooking.
On Tuesday, Bevington revealed the FA has not discussed the job with any potential managers.
Tottenham boss Harry Redknapp remains the firm favourite for the job.
After fulfilling his caretaker duties for the 3-2 friendly defeat by the Netherlands, Stuart Pearce said he would be happy to take control for Euro 2012, but does not believe he is the long-term option.
Despite England's disjointed performance against the World Cup finalists on Wednesday, Brooking did not rule out Pearce for the role full-time.
"He's made it clear, if we're in a situation where we want him to take it, he'd be only too pleased," said Brooking.
"He's done really well this week, and you can see his enthusiasm. He's relished the chance."
Brooking reiterated the FA's desire not to disrupt club football at a crucial stage of the domestic season, saying there is "a lot of sensitivity with club football at the moment".
Meanwhile, Stoke manager Tony Pulis urged the FA fill the post as quickly as possible.
He said: "No disrespect to Stuart or anyone else, but I think Harry [Redknapp] should get the job. And I think the FA should do that as quickly as they can.