Tottenham cash 'speeds up' Stevenage plans
Last updated on .From the section Football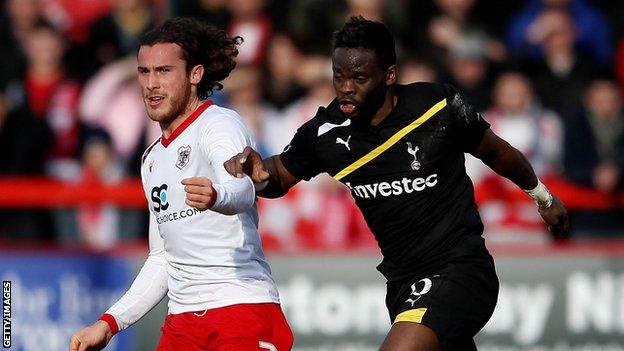 Stevenage chairman Phil Wallace says their FA Cup replay at Tottenham will hasten the club's development, but will not change their future plans.
And the extra funds will go towards the upgrade of Broadhall Way's North Stand.
"It will make things happen a bit quicker but it won't change our policy. It just speeds things up," Wallace told BBC Three Counties Radio.
"We're investing in the team. We're investing in the infrastructure. I think it's how you spend the money that's the key.
"Because we're solvent, it's all about how we're going to invest this money into the club, not spend it."
But Wallace, who also intends to construct a new training facility on land acquired in the summer, is not purely focused on the financial windfall ahead of the trip on 7 March.
He is also attracted by the prospect of securing a quarter-final tie against Bolton.
"We want to get to the last eight," he said. "You'd think that would be a Herculean task doing that. But we haven't got a bad record away."
Being involved in the replay will be a watershed moment for Stevenage keeper Chris Day.
The 36-year-old, who is a Tottenham fan, spent the formative years of his career with Spurs, but never made a senior appearance at White Hart Lane.
"The replay will be my first competitive game there," Day said.
"The last time I played there will have been in an FA Cup youth game of some description, because we played our reserve games at St Albans.
"I remember being a schoolboy training at White Hart Lane and our coach used to send us on a lap around the pitch after training and he would say, 'one day you will play here'. Who would have thought that that day would come 21 years later?"