Inter Milan boss Claudio Ranieri hoping history will not repeat itself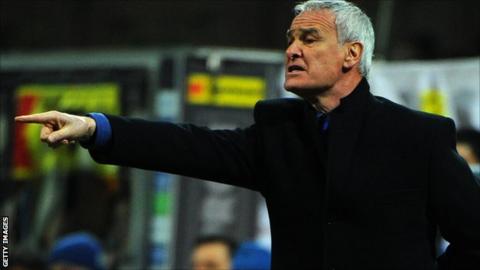 Claudio Ranieri may feel an unnerving sense of deja vu when he comes face-to-face with Didier Deschamps on Wednesday - knowing that defeat in France could again cost him his job.
The Inter Milan manager is under pressure in Italy following a run of five losses in six games - including home defeats to struggling clubs Bologna and Novara.
A further slip against Marseille in the last 16 of the Champions League may prove fatal.
Ex-Chelsea boss Ranieri and player Deschamps crossed paths eight years ago in the semi-finals of a Champions League campaign that would have far-reaching consequences for both men.
Strengthened by the heavy spending of new owner Roman Abramovich, Ranieri's Chelsea travelled to Monaco for the first leg in April 2004 as overwhelming favourites having eliminated an outstanding Arsenal side in the previous round.
Deschamps's men had also claimed a prestigious quarter-final scalp in the form of Real Madrid, although - as Monaco's goalkeeper at the time, Flavio Roma, recalls - few believed they were capable of repeating the feat against Chelsea.
"Everyone was saying Chelsea would tear us to shreds," Roma told BBC Sport. "Abramovich had spent a fortune on players and made it clear he wanted the Champions League. Nobody gave us a chance but we played an amazing game."
A momentous tie at Stade Louis II began with Chelsea's Hernan Crespo cancelling out Dado Prso's opener. The Blues then seemed poised to seize the initiative when Akis Zikos was sent off, yet late strikes from Fernando Morientes and Shabani Nonda clinched a stunning 3-1 triumph for the 10 men of Monaco, who progressed 5-3 on aggregate.
Ranieri was heavily criticised for his substitutions. The charismatic Italian introduced a half-fit Juan Sebastian Veron for Jesper Gronkjaer at the break and then threw on an extra striker - Jimmy Floyd Hasselbaink - for defender Mario Melchiot with nearly half-an-hour left.
Despite playing with three attackers - Hasselbaink, Eidur Gudjohnsen and Crespo - Chelsea rarely threatened and were vulnerable on the counter-attack. Again Ranieri altered the shape, replacing midfielder Scott Parker with defender Robert Huth, who was 19 at the time.
"I take the blame," Ranieri said afterwards. "I made a mistake. It's my most disappointing night."
Roma, a former Italy international, who left Monaco for current club AC Milan in 2009, said: "Deschamps won the tactical battle that time. When we went down to 10 men, Ranieri thought Chelsea could score one or two more goals and he went for it.
"It's easy to say now he shouldn't have done it, but I can understand why he put the extra striker on.
"The problem for Chelsea was that we were very well organised. We kept our balance and picked them off on the break."
With Abramovich's European dream over for the season, Ranieri's four-year tenure at Stamford Bridge ended abruptly.
The identity of his successor, it seemed, would depend on the outcome of the Champions League final between Deschamps's Monaco and Jose Mourinho's Porto.
Monaco were crushed 3-0 in Gelsenkirchen and, as Mourinho packed his bags for west London, Deschamps resigned himself to another year on the Cote d'Azur.
With Morientes, Prso, Ludovic Giuly and Jerome Rothen all leaving, the following season proved hugely anti-climactic - and prompted Deschamps to take a one-year sabbatical.
The former France captain is rarely one for talking nostalgically, yet he conceded in a recent interview with France Football magazine that he still wonders what might have been.
"If I had beaten Porto, my career may have taken a different path," Deschamps, an FA Cup winner with Chelsea in 2000, said last month. "I could have gone to Chelsea, or elsewhere, but I made other choices."
The 43-year-old added: "Jose Mourinho said to me that one quality a coach really needs is luck. It's fair to say I didn't have any luck in that game. Mourinho had a more mature team than me.
"He also didn't have the misfortune I had of losing my best player [Giuly] to injury after 15 minutes."
Like Ranieri, Deschamps has bounced back. He returned to the dugout with Juventus in 2006, guiding the club he graced for five years as a player to the Serie B title.
When he quit after a disagreement, the Frenchman was replaced by a familiar foe: Ranieri had restored his reputation with Parma in 2006-07 and he took charge of the Old Lady for the next two seasons.
Both men have enjoyed relative recent success. Ranieri came close to winning the Serie A title with his home-town team Roma in 2009-10, while that same year Deschamps won the Ligue 1 title in his debut season at Marseille.
The trauma of those events eight years ago seems to have been forgotten, although this week's reunion is bound to stir some vivid memories.
And how would Ranieri react should Marseille go down to 10 men this time?
"I think Ranieri would do the same thing again," Roma said. "He has always been a brave coach and is not afraid to make big calls.
"But this is a difficult time for him. Inter aren't winning games and they have problems."
Roma, 37, who played under Deschamps for four seasons, is tipping the Marseille boss to prevail.
He added: "Deschamps is great at getting the best out of players. I think Marseille have a great chance of going through."
The question is whether or not Abramovich be watching?