Liverpool won't get carried away, says Dalglish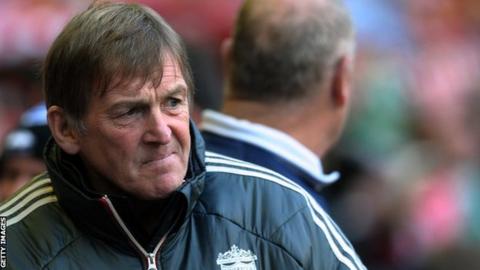 Kenny Dalglish says his Liverpool side will not get carried away with their 6-1 win over Brighton in the FA Cup ahead of Sunday's Carling Cup final.
The Reds secured a quarter-final tie against Stoke, and having endured six years without a trophy they could end the season with a cup double.
"Defeating Brighton has got us to the next round, but it doesn't really help us in the Carling Cup," said the Scot.
"We've got a cup final but we won't get carried away," said Dalglish.
Liverpool will start as favourites against Cardiff, who are fourth in the Championship.
Dalglish also praised forwards Andy Carroll and Luis Suarez, who both scored, and midfielder Steven Gerrard for driving Liverpool to victory over the Seagulls at Anfield.
"The three of them are fantastic footballers and they played really well today," said Dalglish.
"The more any team gets iconic players like they are on the pitch the better chance they have of being successful.
"But we have got more than three players. The fact we have done as well as we have and that was the first time the three of them have started a match tells you how well the other boys have done.
"We will stand and be counted as a squad and I don't think we have done too badly this year."
The Reds boss said that striker Craig Bellamy and defender Daniel Agger, who both missed the Brighton tie, should both be fit for Liverpool's first Wembley appearance since 1996.
Meanwhile, Brighton manager Gus Poyet accused his side of "comic" defending after they scored three own goals.
Liam Bridcutt twice found himself in the wrong place at the wrong time, while Lewis Dunk's disastrous attempt at controlling a Luis Suarez cross also ended in calamity.
"I have watched the goals again on the computer ," said Poyet.
"There are a few funny ones in there. They were comic goals.
"I haven't spoken to the players about it. There were so many individual mistakes it would take all day.
"I learned a lot. I hope my players did the same."
Dalglish hopes Brighton recover from the heavy defeat to stay on course for promotion to the Premier League.
"Six goals might have been a little bit flattering," he said. "I hope the scoreline doesn't affect them.
"I hope they go on and carry on the success they have had."