South Africa set to make 2013 Nations Cup venue choice
By Mohammed Allie
BBC Sport, Cape Town
Last updated on .From the section Football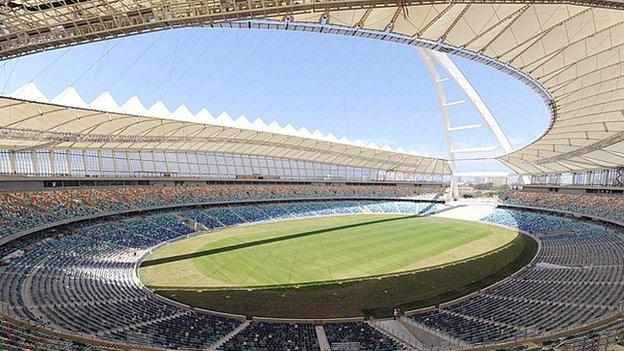 Organisers of the 2013 Africa Cup of Nations in South Africa must choose which of the country's sporting facilities will be used.
With many facilities developed for the 2010 world Cup, eight cities have put their names forward - and officials may choose to use more than the minimum four venues.
"We would love to stage the games in as many of the newly-built World Cup stadiums as possible," South Africa Football Association (Safa) vice-president Mandla Mazibuko said.
The numbers would be determined by "budgets and logistical planning", he added.
"While we are happy that the Premier League clubs are now using the facilities [developed for the World Cup], having a tournament of the stature of the Nations Cup will provide a great boost for those venues," Mazibuko said.
"The host cities will all have the opportunity to make their presentations and bids at a two-day meeting next week, after which we will make recommendations to Caf.
"We need to get moving so that we can start preparations for the tournament which is less than a year away."
It can virtually certain that the opening game and the final will be hosted by Johannesburg's FNB Stadium - so it will be a battle between other cities like Cape Town, Durban, Polokwane, Nelspruit, Port Elizabeth and Rustenburg, as to who gets to be part of the tournament.
All have brand new and relatively underused sporting venues left over from 2010.
Despite their World Cup experience, Safa still sent a ten-person delegation to Gabon and Equatorial Guinea to observe the organisation of the 2012 Nations Cup.
"In modern football, you learn new trends almost every day - we want to do our homework so that we are not found wanting next year," Mazibuko, who headed the Safa team, said.
Mazibuko also revealed that the Confederation of African Football (Caf) and Safa have agreed in principle that the Nations Cup is likely to be staged between 19 January and 10 February 2013.