Botswana coach Stanley Tshosane rejects new contract offer
By Mtokozisi Dube
BBC Sport, Gaborone
Last updated on .From the section Football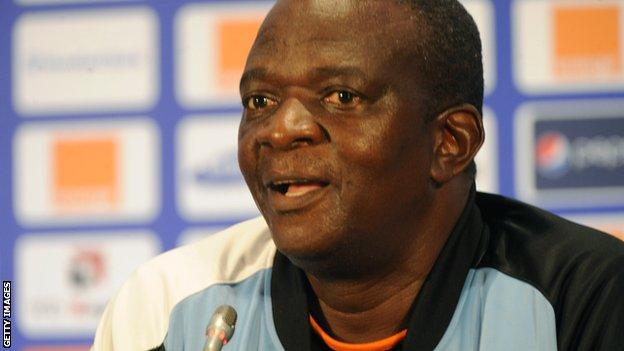 Botswana coach Stanley Tshosane has rejected the Botswana Football Association's (BFA) new contract offer.
Tshosane, who led Botswana to their maiden Africa Cup of Nations this year, turned down the BFA's monthly offer of 55,000 Pula (US$7,500).
The Zebras coach - who has two weeks to run on his current deal - has reportedly demanded an amount in the region of P100,000 (US$13,700).
The BFA confirmed that Tshosane was unhappy about the initial figure.
Botswana FA vice-president Dintle Mphele, however, refused to disclose the exact amount that the BFA offered.
"We gave him an offer last week, which he was not happy about," Mphele told BBC Sport.
Tshosane has since taken a few leave days and negotiations are on hold.
"He is currently on leave because he came back from the Cup of Nations exhausted," Mphele said.
"He'll be back next week and hopefully we will conclude the deal by Wednesday."
Tshosane took over as Zebras coach in 2009 and has been earning an estimated P45,000 (US$6,200) per month, excluding allowances and bonuses.
Tshosane said the BFA had tabled an offer, but indicated that he needed "a few alterations made to the offer".
"BFA have just made their offer and I felt a few things needed to be changed," Tshosane said.
"So I'm waiting for them to make the necessary changes."
Tshosane has reportedly attracted some interest from two South African clubs. But sources close to him said he was not keen to move to South Africa.
Tshosane himself reiterated his desire to continue as Zebras' coach.
"I have offers from South Africa, but I would rather continue serving my country," he said.
"But of course, sometimes you are forced to make such decisions. So it will depend on the outcome of the negotiations."
Following the historic feat of his team's qualification for the Nations Cup for the first time, Tshosane is hoping to earn more than previous Zebras coaches pocketed.
Serbian-born Veselin Jelusic and British native Cowlyn Rowe earned around P60,000 (US$8,300) and P90,000 (US$12,400) monthly, respectively. Tshosane worked as an assistant to both coaches.
The offer of a new three-year deal also comes with housing, cell phone allowances and a car.
When Tshosane took over as Zebras coach three years ago, he was given a mandate to take the team to the Nations Cup and after achieving that, he looks likely to get his demands met by the association.
Botswana lost all their group matches in Equatorial Guinea and Gabon, going down 1-0 to Ghana, 6-1 to Guinea and 2-1 to Mali.