Brighton's David Burke wants elite off-field structure
Last updated on .From the section Football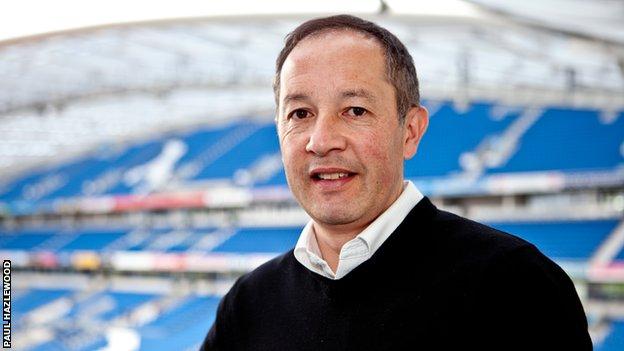 Brighton & Hove Albion's new head of football operations is aiming to create an elite structure off the pitch.
David Burke, who has spent time at Fulham, Southampton and Manchester City, started his role last month.
"Part of the role is to put a structure together at Brighton for the future," he told BBC Sussex.
"We want to make sure we have not only a Premier League ground and training ground, but a Premier League staff and structure from top to bottom."
Burke added: "We can create the culture that [manager] Gus Poyet has already started on the football field, that [chairman] Tony Bloom has started with the stadium, and put that together on the football side.
"The first draft of that has been put together and we're beginning to introduce it. It has major staffing implications."
The Seagulls recently unveiled plans for a new training ground and academy in West Sussex, which is due to be in full operation at the beginning of 2013.
The club hope the new academy complex will achieve Level Two status when it is completed, to fit into the Premier League's new Elite Player Performance Plan.
"Martin Hinshelwood [head of youth football] will have more staff and more areas of expertise," Burke continued.
"We'll be able to cast our net to a wider field, not just the local area. It's very exciting times and everybody needs to embrace that."
Burke, who had a spell working at the Aspire sports academy in Qatar, will also help to identify senior players to bring to Amex Stadium.
"We need a strategy of recruitment which is long term, systematic and fits in to the culture of the club, so players are recruited for the future as well," he added.
"Business-wise, the amount you spend on transfer fees and wages is the most important part of the club.
"We want to have support systems in place that ensure players we bring in for the future are part of that long-term plan.
"I will bring that sort of strategy."
Burke says his experiences with the Seagulls during the January transfer window will help him in the future.
"It's been very interesting," he said. "It's worked out really well because I know how the whole club works in a transfer window.
"Now I'm fully aware of how Gus and the chairman react. We are always talking about players and how we can improve the squad.
"It's been busy but productive."