Zambia players visit site close to 1993 plane crash
Last updated on .From the section Football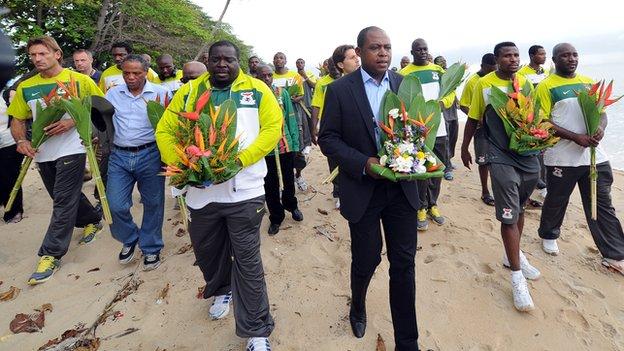 Zambia's players have visited the site close to where 18 Chipolopolo players died in a plane crash in 1993.
After arriving in Gabon for Sunday's Africa Cup of Nations final, they visited a beach where a flight carrying the squad crashed 500m offshore.
The plane was en route to a World Cup qualifier in Senegal and the accident killed all 30 people on board.
The players laid flowers, accompanied by coach Herve Renard and former international Kalusha Bwalya.
Former African Footballer of the Year Bwalya avoided the tragedy, as he was based in the Netherlands at the time and travelled directly to Dakar from Europe.
Now president of the Football Association of Zambia (Faz), Bwalya was among the group paying an emotional homage to the dead, ahead of Zambia's attempt to win their first Nations Cup trophy against Ivory Coast in Libreville.
"It is no coincidence that we are here today, we have worked hard as a team," he said.
"However, I am convinced that our dearly departed brothers who lost their lives here 19 years ago have lent us a helping hand.
"In 1993, the Copper Bullets came here to fulfil a promise, they did not succeed, but instead gave up their lives for a gallant cause.
"Their dream to bring glory to our country, mother Zambia, is the same cause that brings us here today, the only difference is that we are alive and our former teammates are no longer here."
Bwalya, the Zambian players, and Renard, walked along the beach near Libreville's airport on Thursday, singing a Zambian funeral hymn, before coming to a stop at the nearest point on land to the crash and laying a flower for each person killed, at the water's edge.
"On behalf of all of us involved in Zambian football, I say here that their dreams are our dreams, they are smiling down on heaven as we take part in this tournament in Gabon," Bwalya added.
"I pray that their souls may forever rest in peace and that God will give us the strength and the courage to fulfil our dreams and theirs.
"I'm sure the boys up there will be watching on Sunday."
Zambian fans, meanwhile, are preparing for an emotional occasion on Sunday.
Chipolopolo supporters who can afford the air fare have chartered two planes for their team's third appearance in a continental final.
Some fans, however, who have found the cost of travel beyond their reach, will settle for watching the final from home.
"I really want to travel and even visit the site of the crash," said Evans Chilela, a member of the Chipolopolo Soccer Fans Association.
"The feeling and experience would definitely be emotional. I can't describe it. But I won't be able to travel."
Enock Phiri, a student in Lusaka, also said he could not travel to Gabon because the tickets are too expensive.
Zambia's President Michael Sata has also urged his countrymen to win the title, as they prepare to take on pre-tournament favourites Ivory Coast.
The president spoke to Zambian captain Christopher Katongo on Wednesday, after his team had beaten fancied Ghana 1-0 in Bata to qualify for their first Nations Cup final appearance since since 1994.