David Ginola suffers serious injuries while skiing in France
By Jimmy Smallwood
BBC Sport
Last updated on .From the section Football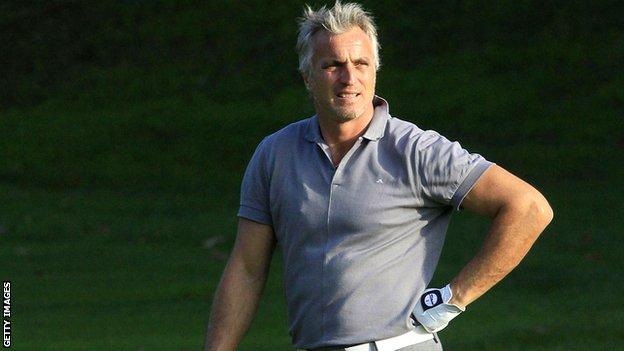 David Ginola has broken five ribs and suffered injuries to his neck and collarbone while skiing in the French Alps.
The former Newcastle, Tottenham and France winger crashed at dusk on Tuesday and spent 90 minutes on the freezing snow before being airlifted to a nearby hospital.
The 45-year-old has since returned to his hotel and is resting.
"David is in pain," a friend told BBC Sport. "He doesn't remember anything."
Ginola was in Megeve in southern France competing in a snow golf tournament when the accident occurred.
A spokesperson for the former footballer described the conditions: "It happened in the evening before they closed the slopes. There was poor visibility. He lost his skis and fell badly.
"Something went wrong because he is an incredibly good skier. All I know is he broke five ribs very badly. He also has a collarbone injury and the vertebrae in his neck have been quite badly knocked. He is wearing a neck brace.
"He is feeling very sore. We just have to wait to assess some damage."
The retired footballer, who played for a number of Premier League clubs between 1995 and 2002, was forced to wait in the gathering dark for an hour-and-a-half while an air ambulance located him. He was then transported to a local medical centre and kept under observation before being returned today to his hotel.
He is, however, expected to make a full recovery.
"He is going to get better because he does not spend too much time feeling sorry for himself," Ginola's friend concluded.
"He's very fit and strong and, like most men, he'll be brave."