David Healy aims to fill Nikica Jelavic void at Rangers
Last updated on .From the section Football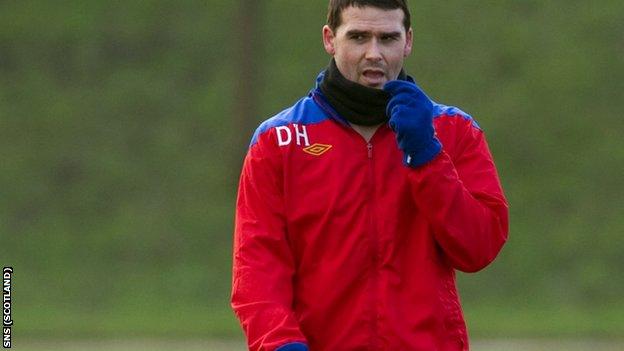 David Healy believes he can fill the void at Rangers left by the departure of top goalscorer Nikica Jelavic.
The Northern Irishman is Rangers' only fit and available striker ahead of Sunday's Scottish Cup fourth-round tie against Dundee United.
"I've started the last four or five games and responded with three goals," said the 32-year-old.
"I'm confident in myself, I've always been confident in my own ability. If I wasn't, I wouldn't have signed here."
Healy has only recently forced his way into manager Ally McCoist's starting line-up following injuries to Steven Naismith and Kyle Lafferty.
Now, with Jelavic having been sold to Everton this week, Healy is the man on which much of Rangers' hopes rest.
"The challenge has always been there for me," said the Northern Ireland international, who moved to Ibrox from Sunderland in January 2011 after a spell on loan to Doncaster Rovers.
"I've waited for my chance for a long time.
"I could have taken an easier option and went somewhere else, but I wanted to be part of this club."
Jelavic contributed 17 goals before quitting Rangers for £5.5m, with McCoist being left frustrated in his late attempts to find a replacement before the transfer window closed.
However, Healy is confident of success without the Croatia international and despite having squandered a 15-point lead over Celtic in the Scottish Premier League.
"I'm sure the club was hoping we could have added to the squad, but we didn't and that's life," he said.
"No one player leaving this football club is going to change anything.
"Big players have left before and the football club will always be here.
"People were saying he was going to go and, to be fair, Everton is a big club for him. It's a big challenge and a new start.
"He scored a lot of goals up here and helped win two trophies, so I'm sure the club and everyone else wishes him well down there.
"It just means we have to do what we did last year. We went on to win two trophies."
Celtic are a point ahead of the reigning champions with a game in hand, but Healy insists Rangers still believe they can retain their crown.
"We had a meeting with the manager after the deadline the other day and he believes - and I'm sure the rest of the lads believe - there is more than enough here to challenge Celtic for the trophies," he added.
"Celtic are in the driving seat, but we are still fighting."