England captaincy: Steven Gerrard should replace Terry, says Taylor
Last updated on .From the section Football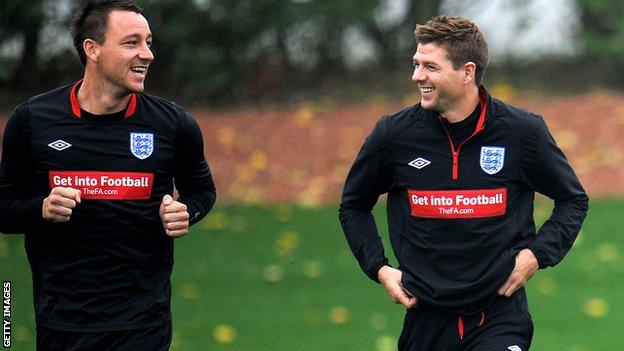 Former England manager Graham Taylor says Steven Gerrard should replace John Terry as national team captain.
Terry, who is awaiting trial after pleading not guilty to a charge of racially abusing QPR's Anton Ferdinand, was stripped of the role by the Football Association on Friday.
"Gerrard's been captain before and I'd expect [England boss Fabio] Capello to give it to him," Taylor told BBC Sport.
"If he gets his top-class form back, I think I would do the same."
Chelsea captain Terry, who had a not guilty plea entered on his behalf at a hearing on Wednesday, has will not begin until 9 July, eight days after the Euro 2012 Championship finishes.
Taylor, who managed England from 1990-93, praised the FA for making an "understandable" call.
He said: "This is the correct decision. The FA have got it right, though they'll be accused of getting it wrong.
"It's a recognition of the embarrassment that could be caused both for Terry and the England team.
"Terry will feel let down by the FA. He will feel upset because he's made it very clear that he could handle the situation.
"Playing on the football pitch is an escape for him.
"But they have taken the captaincy away so he will not be put into public positions as he would have been had he been captain. I think that helps him."
Gerrard, 31, has captained Liverpool for nine years and was made England captain on a trial basis when Capello became manager in 2008.
Ultimately, the Italian awarded the armband to Terry, promoting Manchester United's Rio Ferdinand to vice-captain in place of Gerrard.
And with Ferdinand already having ruled himself out of succeeding Terry, Taylor sees Gerrard as the strongest remaining candidate, ahead of Manchester City goalkeeper Joe Hart and Tottenham midfielder Scott Parker.
"While I understand that argument about keepers being captains because they can see the whole pitch, I'm still not a lover of it," he said. "He's sometimes too far away from people to really make his influence felt.
"Parker has done extremely well. Whether he would be able to accept the captaincy at that level I don't know. I don't know him well enough."
Taylor did say it was surprising, however, that it was the FA board rather than the national team's coach who made the decision.
"I would have liked to have heard that Capello was involved, or had at least been told before it became public," he said.
But he added that in reappointing Terry - who had previously lost the England captaincy in February 2010 after rumours regarding his private life - Capello had put himself in a difficult position.
"Having brought him back as captain I can imagine Fabio would have seen it as very difficult to pull him out," Taylor explained.