Danny Wilson considers David Weir for Sheffield United
Last updated on .From the section Football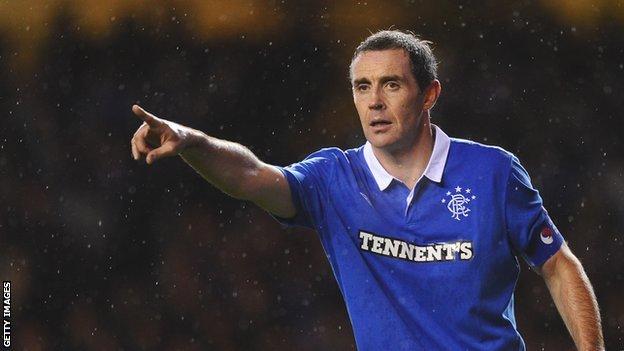 Veteran Scottish defender David Weir could continue his playing career at Sheffield United in League One.
United manager Danny Wilson told his club's website: "There is no rush to do anything. He is out of contract and can sign any time.
"His travelling is easy and he is very relaxed. He wants to keep playing so he continues to have ambition."
And Wilson added: "David has been training with us for the last two weeks, through no commitment, but if anything does happen to anyone in our squad then we need to have our finger on the pulse.
"You look at David and you would think he was 30! He is a terrific athlete and a great model to the younger lads."
Weir, who won eight trophies in his five years at Ibrox, told BBC Radio Scotland's Sportsound that he was keen to extend his playing career.
"I have been over training at Sheffield and I've enjoyed it and I've played in a couple of bounce games and enjoyed that as well," he said.
"So I've still not lost the bug and, if I can get someone to give me the opportunity to play, I will definitely do it, although I've obviously got an eye on the other side [coaching] as well."
"Everybody I speak to and everybody I respect says play as long as you can and, although I have not had much time in the first team this season, I've played regularly in the [Rangers] reserves."
Asked if he could be offered a contract at Sheffield United, Weir said: "I don't know, we haven't gone that far.
"When I left Rangers, I didn't want to take a couple of weeks off and take my foot off the gas - that's not really me.
"So I just wanted to get back training as quickly as possible and I felt it was a good opportunity to do it there.
"Danny Wilson, the manager, has been fantastic and gave me the opportunity to train and play in a couple of games and it's been great for me."
David Moyes, manager at one of Weir's previous clubs, Everton, is keen to have Weir as a coach at Finch Farm, but the player seems in no hurry to take up his countryman's offer.
"He's one of the people that's said to me to play as long as you can and enjoy that side as much as you can because the other side is different and, to be honest, probably not as enjoyable," Weir told BBC Scotland.
"I appreciate him saying that, but my priority is still playing."